SIS Climate Justice Event Oct. 22 Will Feature Five Women Leaders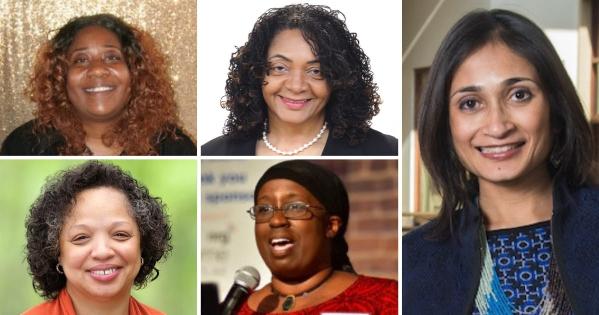 From increasing wildfires to rising sea levels, the destructive effects of climate change are now more apparent than ever. And though climate change threatens all life on earth, marginalized communities are especially vulnerable to its impacts. This has led in recent years to calls for climate justice in both climate policy and activism.
On October 22, a panel of experts, including representatives from the NAACP and the Union of Concerned Scientists, will take part in the upcoming virtual panel discussion, SIS Global to Local: Climate Justice.
What Is Climate Justice?
"The term climate justice most broadly refers to the fact that those that are least responsible for climate change are likely to bare its gravest impacts," said Malini Ranganathan, SIS professor and the interim faculty director of AU's Antiracist Research and Policy Center (ARPC), in an interview on The Kojo Nnamdi Show.
Ranganathan, whose research areas include climate and water justice, will moderate the event, which SIS is cosponsoring with ARPC and AU's Office of Sustainability. The conversation features a panel of experts who will discuss the fact that climate change is an important ethical and political concern, not only a purely environmental or scientific one.
The experts include Rhonda Hamilton, DC's Ward 6 advisory neighborhood commissioner; Adrienne Hollis, the Union of Concerned Scientists' senior climate justice and health scientist; Vernice Miller-Travis, the Metropolitan Group's executive vice president for environment and sustainability; and Jacqui Patterson, senior director of the NAACP's environmental and climate justice program. They will discuss a variety of climate justice issues from the local DC perspective to the global view.
An Interconnected Issue
"One of the main takeaways I'd like students to have from this discussion is that we're already feeling the effects of climate change—some more than others—but we all feel it," says Hollis. "What we need to recognize is that what is happening here in the US is happening all over the world. We need to think in that context."
Hollis also wants event attendees to come away with the understanding of racism's role in climate issues and more: "The effects of climate change, health disparities, COVID-19 infection rates and death rates, the struggles people have around extreme weather…all of those things are interrelated, and underlying all of them is systemic racism. Once you understand that, you know that when you start addressing racism, you're beginning to address some of those other issues as well."
Tacy Lambiase, the sustainability manager at AU's Office of Sustainability, brings up an example of environmental injustice occurring right in DC: "Lower income neighborhoods in Washington, DC, with majority Black residents have fewer trees and less green space. This is an injustice that's rooted in decades-old racist housing policies."
She emphasizes that more concrete and fewer trees mean that these communities will experience higher temperatures due to what's called the urban heat island effect. This can put people at higher risk for heat stroke and other illnesses because of the heat waves that DC is projected to experience more frequently and more intensely due to climate change.
An Event to Inspire Action
The climate crisis is not only affecting the environment, it's impacting people everywhere, and Lambiase hopes this event will empower the AU community to support communities on the frontlines of this crisis.
"We're really excited to have more conversations around a topic that we think is timely, relevant, and important," says Lambiase. "We're also thrilled to be cosponsoring a panel of four incredible leaders in this space."
Learn more and RSVP for SIS Global to Local: Climate Justice.