Government & Politics
Election 2020: SIS Student Travels 1,300 Miles to Cast His Ballot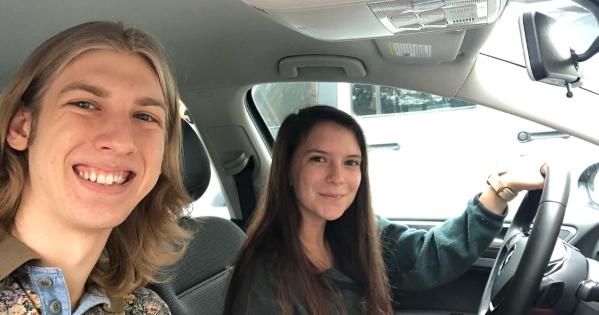 With less than two weeks before Election Day, Zachary Houdek (SIS/BA '22) and Meredith Reilly (SPA/BA '22) still hadn't received the mail-in ballots they'd requested earlier this fall. They both currently live in DC and wanted to vote absentee in their shared home state of Texas. But rather than continue to wait, they decided to drive 27 hours from DC to Texas to vote in person. We caught up with Houdek to learn more about what motivated him to make the 1,300-mile drive. Our conversation has been edited and condensed for brevity and clarity.
---
Q: For the 2018 midterm elections, you and your classmate were able to vote absentee in Texas. Clearly, that didn't happen this time! What do you think happened?
I would like to think that it was simply an issue with each of our counties—either not processing [the requests] or not receiving them—whether they were overwhelmed with mail-in ballots or they didn't know what happened. Because that hasn't been a problem in the past, especially mailing the ballots. So I don't think, personally, it was a problem with the USPS. I think it was just a broader issue with Texas, specifically, and how they've been handling mail-in voting and early voting overall.
Because in person it was super easy—it took 15 minutes. We also weren't the only people who had issues like this. I thought it was a one off—maybe they misplaced it or someone lost it or something like that. But in the comments of other articles, there were thousands of people saying, "My college student also didn't get their ballot received to them in time" or "oh, their ballot request also wasn't processed." So that's when it clicked for me that it was part of a bigger issue overall.
Q: Why were you willing to drive all the way from DC to Texas to cast your ballots in person for the 2020 election?
This election is probably the most important election that we're ever going to have in our lifetimes. It is absolutely monumental. And being American University students who are so politically engaged, we're telling all of our friends and family all the time, "You have to go vote. Did you request your mail-in ballot? Have you made a plan for it?" We urged them on social media, in person. Once we realized that we weren't going to be able to vote because our ballots hadn't come, we thought, "We can't be those hypocrites telling everyone to go vote and then we didn't." Because we had the means to do it.
It was just so important in the whole grand scheme of the election, arguably deciding what could happen for the rest of our lives in issues like climate policy and US foreign policy as well. That was one of the biggest things for me. The next four years are going to determine whether or not the US is going to be able to maintain its status as one of the world leaders, and I didn't think Trump would be able to do that. I had to go home to make my voice heard in that decision.
Q: A record number of young Texans have already cast their ballots in comparison to how many they cast in total during the 2016 presidential election. Also, according to The Washington Post and other outlets, more than 9 million people of every age have voted early in Texas, surpassing the total number of ballots cast in the state in 2016. Why do you think the interest in early voting is so strong in Texas this year?
I think one of the biggest reasons is just that young people have been so particularly impacted by this election. In previous elections, they were either in high school or may not have known— the media wasn't openly available to them—but in this one, they have had those lived experiences with the current administration. They've seen what's happened, and it's become a part of our everyday life with the ingraining of social media. We've seen its direct impacts, especially during times of COVID, and people just couldn't stay home [and not vote] anymore.
With Texas, it was amazing. Hays County, Texas—which is right next to the border of Travis County, where I voted—they were the first county in the United States to surpass their 2016 election turnout. Once that happened, I thought that this is something we have to continue to do. I was excited. If this is happening in Hays County, it's going to happen in Travis Country, and it's going to happen in the rest of Austin. It felt really good to be a part of that change as well.
Texas is a battleground state now, and for me, that is just an amazing thing to say. Now that people see that as a reality, they're willing to get out [to vote] because they see that their vote matters—that it can change something. And that's what we've said a lot of the time, that your vote is your voice.
Q: Voting in the 2020 US election will determine what the next four years will look like in terms of US domestic policy. As an SIS student, how do you think this election will play a role in the future of international affairs?
The biggest issue to me is climate change—making sure that we're able to have a clean future for both our kids and grandkids and being able to elect a representative that in the next four years is able to make those differences. This is an international issue. The US isn't alone in carbon emissions. In turning to green energy or renewable resources, the US needs to be a leader in these some of these solutions, demonstrating them–because we have the ability to. Going to Texas and voting for Joe Biden was the way that I was able to make my voice heard. I want the US to be a leader in [renewable] resources and to make sure that change actually happens.
The other thing with international policy is the handling of some of our greatest allies, historically—the biggest ones being Germany and France. Within the past couple of decades, we've seen a shift away from our democratic neighbors towards more authoritarian regimes such as Kim Jong Un, Putin, and Xi Jinping and away from states like Japan, France, and the United Kingdom. As an SIS student, it's been crazy to see that happen. We're going to need those allies that we're turning our backs on.
Q: Do you have any words of encouragement for your fellow AU classmates who are eligible to vote in this year's presidential election?
The biggest thing obviously is to get out and vote. If you haven't done it already, Tuesday is Election Day. If you can vote in person, that's obviously the best option out there. It can be relatively difficult if you have to travel, but if you're able to do it—if you're able to wear a mask, a finger protector—that is the way to make your voice heard. If you can't vote in person, taking your mail-in ballot and dropping it off at one of the ballot boxes is the other best way, now, to make sure that your voice is still heard.
And also make sure your friends and families have plans to vote. Make sure they've early voted or that they know they're going to go out at a specific time on Election Day. One last thing I'd like to add is that once you're in line at the polls, they can't stop you from voting. So once the time hits [for the polls to close], even if you're still in line, you're still allowed to go in and go vote.
Keep up, stay engaged, make sure that you're able to communicate with everyone about these issues so that they are informed. That's what our biggest job as educated youth is—it's to talk to people and make sure they know. We're so energized about this.