On Campus
Daniel Gerstein: Veteran, Scholar, and SIS Professor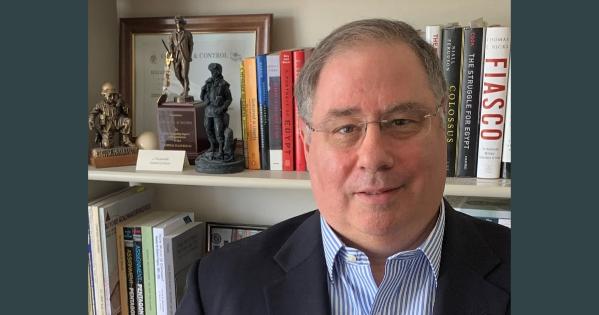 Professor Daniel Gerstein is an SIS faculty member and a retired US Army colonel. He spent 30 years in uniform, traveling around the world and serving in combat, peacekeeping, humanitarian, and homeland security roles. From taking part in a historic peace settlement to writing speeches for a notable general, Gerstein's broad range of military experiences have shaped his knowledge of, work in, and teaching of international affairs.
Unexpected Paths in the Military
After graduating from the United States Military Academy West Point, Gerstein performed a variety of roles in the military–many of which he hadn't expected: "I never would have guessed that I would have been on international peace negotiations or worked on conventional arms control negotiations."
During the first Gulf War, Gerstein saw combat in Southwest Asia. In 1995, he was part of then-Assistant Secretary of State for European and Eurasian Affairs Richard Holbrooke's delegation negotiating the peace settlement in the Balkans. From his involvement in peacekeeping, Gerstein gained unique perspectives on areas of international affairs, including what different nations' leaders are like.
"We were negotiating with presidents of countries," says Gerstein. "It's interesting: when you listen to how they speak about themselves, their citizens, their nations, you see the parallels to today with authoritarian dictators—how they approach life in a very different way."
Gerstein spent a lot of time writing in the military, including articles in Army communications magazines, op-eds, and a book on US national security strategy in the information age. From 1994 to 1996, he wrote speeches for General Wesley Clark—including a memorable one about the Holocaust. After reading the first draft, Clark was left with tears in his eyes. Says Gerstein: "When you read about the history of the Holocaust and the soldiers that went and liberated those camps…most of them talk about it as a life-defining moment, when they actually realized what had been done."
The Intersection of Science and Technology, Government, and Industry
As an engineering major at West Point, Gerstein came into the Army with an educational foundation in technology. He served as an officer in the Signal Corps, a very technical branch that required establishing networks and specialized communication and video equipment. He was responsible for Army Transformation, which was a fundamental change the Army envisioned to gain new equipment, doctrine, and ways of training and to integrate technology.
After retiring from the military, Gerstein earned a PhD in biodefense—an area that focuses on countering biological warfare. He was appointed principal director for countering weapons of mass destruction in the Obama administration and later served as deputy undersecretary/acting undersecretary for science and technology at the Department of Homeland Security.
Gerstein has also used his science and technology insights in the private sector. At the L3 Corporation as a Vice President for Homeland Security Services, he evaluated the technologies of smaller companies that were brought on by the firm. He currently is the president of SciTech Services Inc.—a small business that provides R&D, testing, engineering, and life science services to the Department of Defense and other government agencies.
Teaching at SIS
When it comes to Gerstein's teaching, he often shares with his students what he's learned from his first-hand experiences in the military, government, and industry. He has taught courses on bioterrorism, the evolution of military thought, and technology and national security. In the upcoming spring 2021 semester, he will teach a course on pandemics and global health risks.
Gerstein's favorite aspect of SIS is the students—their drive to explore the world and understand concepts of international affairs. He enjoys interacting with them and hearing their thoughts about different issues. In a way, teaching reminds him of his time in the Army: "When I look out at the students, many of them remind me of junior officers I knew when I was a senior officer…I had lieutenants who were generally around the same age as the students."
In his view, veterans and current service members should consider enrolling at SIS in part because they're likely to encounter classmates with a diverse set of backgrounds, including others with military backgrounds.
"Part of the reason why I like it here is that in every class I've taught, I've had a number of students who have either had military service or may even be on active duty," says Gerstein. "I also think the opportunity to be in an educational environment with people who come from all different walks of life is special."