Achievements
SIS Professor Audrey Kurth Cronin Wins 2020 Neave Book Prize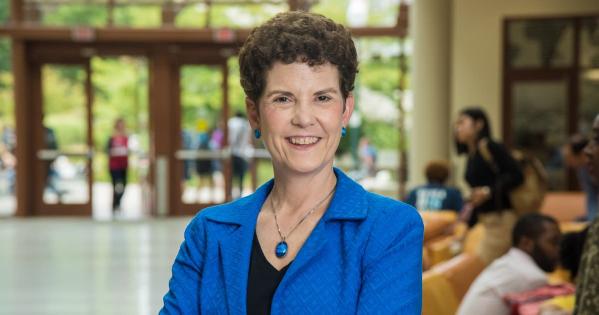 SIS professor Audrey Kurth Cronin's book, Power to the People: How Open Technological Innovation is Arming Tomorrow's Terrorists, has won the 2020 Neave Book Prize. It is awarded annually to the work of non-fiction considered to have made the most significant, original, relevant, and practically valuable contribution to the understanding of terrorism.
Power to the People, published in 2019, explores how non-state actors like terrorists use technology, starting back in the 19th century with the invention of dynamite. Cronin explains that dynamite—and its accessibility—was really the "crucial catalyst" for what we know as modern terrorism.
"The accessibility of technology is a key element in what enables terrorism to happen because you have far more people in the population who can get their hands on lethal technologies," says Cronin. "Digital technologies are, above all else, very accessible. They are built on platforms that are specifically designed to give people the opportunity to experiment and to combine and buy and sell and use these technologies in ways that are mostly absolutely wonderful. But if we don't pay attention to the negative side of open, accessible technologies—including things like social media, 3D printing, robotics, facial recognition, even simple artificial intelligence—we're not going to be able to realize all of their opportunities because people will get hurt."
Consideration for this year's award included books published from 2018 to 2020, and Cronin's Power to the People was chosen from a full list of 12 books, four of which were shortlisted ahead of the award ceremony on November 24. This is the third Neave Book Prize awarded by the Airey Neave Trust to commemorate Airey Neave, a member of Parliament who was killed by a car bomb planted by the Irish National Liberation Army at the UK House of Commons in 1979.
"It's a tremendous honor to have won," says Cronin. "I also feel very lucky to be in the presence and company of prior winners. Christopher Andrew, who wrote The Secret World: A History of Intelligence, won last year. Then the year before, it was Ali Soufan, who wrote a very wonderful book called Anatomy of Terror."
"I'm elated and so proud that Audrey Kurth Cronin's path-breaking scholarly research and thought leadership are being recognized through this award," says SIS Dean Christine BN Chin. "The Airey Neave Memorial Prize annually recognizes the most significant contribution to our collective understanding of terrorism; I quite agree that Audrey's book, Power to the People, fits that description to a tee."
Cronin explains that she is afraid researchers are not digging deeply enough into the core drivers of 21st century non-state violence—including terrorism, mass shootings, insurgencies, civil wars, private armies, and proxy wars. She says that one of the key things Power to the People does is to anticipate which of our digital technologies is most likely to be used for terrorism going forward.
"It's not an accident, for example, that right now we're seeing the intersection between social media, firearms, globalization, and accessible digital technologies in the United States with the rise of right-wing extremism. It's not just a matter of political ideology; it's also a matter of having access to means to carry out violence," explains Cronin. "Power to the People is about trying to understand why we're in the situation we're in with respect to the evolution of terrorism and other kinds of non-state violence and how we can maximize the benefits of our digital technologies without suffering the serious risks that we face if we ignore them."
The Airey Neave Trust was established in Airey Neave's memory to further research and understanding in relation to freedom under the law, especially about issues regarding the analysis of and the best response to terrorist violence. The short list of books under consideration for this year's Neave Book Prize were judged by a panel that included Sir David Veness, Michael Bottenheim, Sir Kevin Tebbit, Sir David Omand, and Professor Michael Clarke.