Student Life
SIS Student and Returned Peace Corps Volunteer Dives into the Causes of Environmental Issues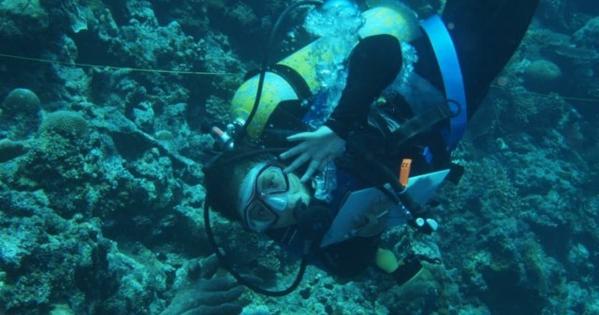 Lia Cheek (SIS/MA '21) has focused her career on tackling environmental issues. She worked as a Peace Corps Volunteer on coastal research management in the Philippines, and she is now the national director of field campaigns at the Endangered Species Coalition (ESC), a national network that's dedicated to protecting at-risk wildlife in the US. As a student in the Global Environmental Politics (GEP) program, Cheek applies what she learns in class to the species protection campaigns she oversees.
We spoke with Cheek to learn more about her time in the Peace Corps, her role at ESC, and why she is pursuing a GEP degree at SIS.
The Long-Term Impact of Her Time in the Peace Corps
After graduating with an undergraduate biology degree in 2009, Cheek spent 2½ years working on coastal research management in El Nido, Palawan, a province in the Philippines known as the country's "last ecological frontier." The area's natural beauty attracts many tourists, which has led to unsustainable development. To address this issue, Cheek collaborated with El Nido's local government to establish a more sustainable tourism plan.
She also worked with local communities and fishermen outside of El Nido's main tourism hub to create community-managed protected areas for their fisheries. At the time, tactics like dynamite and cyanide fishing were common in El Nido, so part of Cheek's job was to provide education on how such practices harm coral reefs as well as the foundations of the fisheries.
Cheek looks back fondly on her time in the Peace Corps: "The Filipino people are some of the most welcoming, kind, and generous people, despite the long history of oppression that they've faced. I was really blessed to work there and to meet the people I met."
The experience not only served as an opportunity for Cheek to accomplish conservation-focused field work, but it also influenced her long-term career ambitions. Coming into the Peace Corps with a biology background, she understood that science played a role in informing environmental decision making; after working in El Nido, Cheek realized people's perceptions of their environment are just as important.
"To make environmental change, we have to work with people and support them in living with their environment in a way that's sustainable," says Cheek. "Working with people in the Peace Corps really shifted my focus towards grassroots activism. I'm diving into questions like 'How do you motivate people? How do you build people power in order to change negative environmental impacts?'"
Overseeing Campaigns across the US
As the national director of field campaigns at the ESC, Cheek oversees the field representatives who work to implement the coalition's regional campaigns across the US. Alongside supporting the organizers, she creates strategies for campaigns: "I think about the kinds of tactics we can employ to make a politician think differently about endangered species protections or vote for a certain piece of legislation we're supporting."
Cheek is also on a leadership team that guides the overall strategy of ESC. She collaborates with the executive director and deputy director on the organization's vision, structure, and processes.
One of the initiatives Cheek led at ESC was on developing a diversity, equity, and inclusion mission statement for the organization: "I led a group of board members and staff in having some of those difficult discussions around the history of the environmental movement, our place as an organization in it, and our responsibility to address some of the embedded historical wrongs."
She worked closely on the initiative with board member Robert Stanton—the first Black director of the National Park Service who supported park staff diversity and inclusion and increasing programs to recognize the struggles, achievements, and contributions of women and minorities in the development of the US. He won the 2020 Murie Spirit of Conservation Award and nominated Cheek for the Murie Rising Leader Award, which she was awarded last June.
"Robert Stanton has been such a great mentor to me. He has been able to make pathways for people of color in the conservation field. It was such an honor to receive that award with him," says Cheek. "Environmental issues are tightly interwoven with equality and social justice. It's incredibly important to make space for more leaders of color in the conservation movement so that we can better address the root causes of both environmental degradation and social injustice."
Applying Valuable Lessons from GEP
Cheek's interest in the intersection of social justice and conservation prompted her to pursue a GEP degree from SIS. After learning about and auditing one of Professor Malini Ranganathan's environmental justice classes, she knew the GEP program was a good fit: "My goal at AU is to deepen my understanding of the underlying connections between injustice and conservation and to use that understanding in my work."
Cheek has already begun applying what she's learned at SIS to her role at ESC. After listening to a lecture about South Africa's policies addressing climate change, she looked into which pieces of those policies could be applied to a bill that ESC is working to support. Cheek also studied the history of environmental racism in one of her courses and used her new knowledge to train ESC activists and staff to apply that lens to their work.
"Professor Ranganathan's Environmental Justice course is so interesting and engaging. I also enjoyed Professor Scott Freeman's course on political ecology, which focused on what drives today's environmental problems," says Cheek. "All of my professors at AU have helped their students think through using what we learn in class to address the world's problems."
Throughout her career, Cheek has learned that environmental issues and the solutions to them come with a lot of nuance, and her SIS education underscores this reality: "Things aren't black and white—they're not simple. I learned that in the Peace Corps, and the GEP courses I'm taking have continued to help me understand the nuances of issues I'm interested in. My courses have helped me to look at what's underneath the surface of environmental problems, and focus on those root causes."
---
Learn more about applying for GEP and other SIS master's programs.