Research
Dalit Hip-Hop and American Country Music: SIS Students Research the Sounds of Identity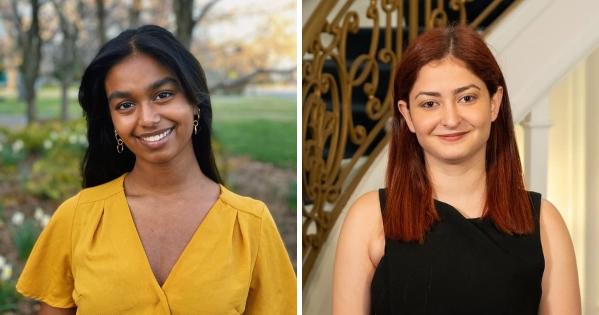 Music isn't only a form of entertainment; songs can reflect the state of society, serve as artistic forms of protest, or even represent a country in an annual televised competition. Because of music's unique and versatile roles in international affairs, recently-graduated SIS alumni Dhanya Rao (SIS/BA '21) and Lori Younissess (SIS/BA '21) both conducted research projects that focused on a musical genre during their last year as undergraduates.
"A lot of IR and political science research looks closely at elections, revolutions, wars, conflicts, policy. Even though such things are important, I think examining music makes the study of IR more inclusive, because music is something that everyday people around the globe interact with. Music can reflect how they see themselves—their identity," says Younissess.
For their projects, Rao explored how Dalit people in India make Black hip-hop genres their own, and Younissess examined the intersection of American nationalism and country music. They presented their research virtually at this year's National Conferences on Undergraduate Research (NCUR) this past April.
The Dalit Hip-Hop Scene in India
Dalit describes the people who belong to India's lowest caste—many of whom face caste-based discrimination—and over the last two decades, Dalit artists and musical groups have used the genre of hip-hop to protest caste-based identity. According to Rao, the foundations of hip-hop, which originated from Black Americans from the Bronx in New York City, are inherently resistive and counter state systems of surveillance, particularly policing. As the genre became more globalized, it reached broad swaths of the African diaspora.
"Hip-hop has been used as this medium of vocalization of protest for marginalized and subaltern youth whose voices are so often excluded from and devalued in political discourse," says Rao.
The Indian hip-hop scene has only recently sprouted in the subcontinent, and it reached the mainstream in the mid-2010s. To conduct her research, Rao analyzed four Dalit hip-hop groups/artists: The Casteless Collective, Arivu, Harish Kamble, and Sumeet Samos. She wanted to understand how Dalit artists localized styles that came from Black American hip-hop and how the current moment in hip-hop could build on past solidarities of the two groups.
Localizing an Originally American Genre
Rao found that Dalit artists would use the elements and styles of Black American hip-hop artists: "For example, in some videos we see Dalit artists wearing teal Adidas track suits or gold chains and sunglasses, which really recalls American and Black styles of hip-hop."
But the Dalit artists also blend in local elements. The Casteless Collective songs, for instance, include Gaana music, which is marginalized in India, both because it is a Dalit music style and because it is played at funerals. Another way Dalit hip-hop is different from American hip-hop is the indirect way their songs name their oppressors.
"In the Black American music I studied and in other studies of the genre, artists are most fixated with critiquing state systems of surveillance," says Rao. "Dalit artists, on the other hand, don't make it obvious to whom they're talking in their songs, which enables them to talk about things like urban inequality, voting disenfranchisement, and even violence perpetrated by the police."
By keeping who they're speaking to ambiguous, Dalit artists reflect how notable Indian scholars have written about the caste system. Despite these differences, Black American artists and Dalit artists overlapped in terms of the topics they cover in their songs. When discussing citizenship in their music, both groups would emphasize voting disenfranchisement and corruption.
What Rao found most surprising was how the groups also included discourse of Blackness in their music: "In my research, I found that Blackness moves beyond its epidermal association with skin tone, and it really becomes the shared marginalized identity under systems of racial capitalism and casteism."
Exploring American Nationalism and Country Music
To learn how American national identity is presented in country music, Younissess analyzed more than 100 songs that, since the late 1960s, had won the Country Music Association Award or the Academy of Country Music Award for Single of the Year or Song of the Year. Beyond looking at the songs themselves, she dug into their contexts as well.
"I looked at more than just the specific language of the lyrics. I also analyzed what the artist said during interviews and concerts, what the official music videos revealed, and how the media portrayed the songs," says Younissess.
She highlights the song "Where Were You (When the World Stopped Turning)," by Alan Jackson, as an example of why such context matters: "Audience reactions to songs like this were a call for unity after 9/11. It's not just what the artist put into the song but also the audience's role in which songs are encouraged, celebrated, or shot down."
The Restrictions of the Genre's Audience
After analyzing the songs, Younissess found that they could be grouped into three categories: pro-nationalist songs; songs that are critical of American nationalism; and songs unrelated to discourse on nationalism, which she refers to as the "Love, Death, and Trucks" category. While numerous songs could be placed in the buckets of pro-nationalist or "Love, Death, and Trucks," only one out of the six-decades-worth of award-winning country songs critiqued nationalism by pointing out the difficulty in achieving the American Dream: "All the Gold in California," by Larry Gatlin & The Gatlin Brothers Band.
"The songs in the pro-nationalist category are essentially the gold standard of how someone should speak about the US—the pride they should take in the country," says Younissess. "In other genres, whether it be pop or rock, you see, at some level, two sides of the debate, whereas in country music, you almost don't see this at all."
She also notes that when country artists defy the dominant discourse of pro-nationalism outside of their music—whether that be through interviews or public statements—country music audiences often reject that defiance. Younissess cites, as an example, audience backlash to the artist Luke Combs after he apologized for including the Confederate flag in a music video.
"The lack of criticism shows us the boundaries of what the dominant discourse of country music says—here's the line, and you're not allowed to cross it," says Younissess.
A Spirit of Collaboration
Both Rao and Younissess look back fondly on the process of collaborating with their peers on this research. From workshopping research ideas to discussing their methodologies, the now-SIS alumni enjoyed working on their projects alongside the rest of the NCUR delegation.
"It was fun collaborating with people who were passionate about their projects and looking to take those projects to the next step," says Younissess.
"I'm really thankful to have done this research as part of the SIS honors program," says Rao. "It was such a great and close group of students and we really supported each other throughout this process."