Achievements
At Nineteen, Danya Hamad is Youngest-Ever SIS Master of International Relations Graduate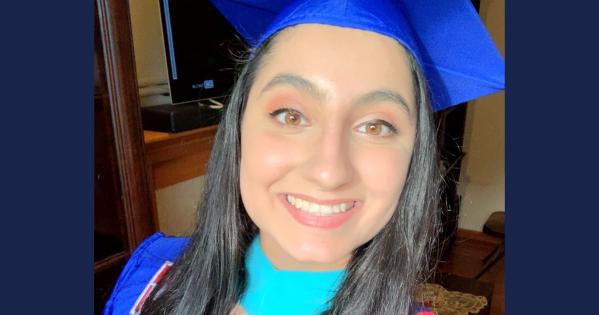 At just 19 years old, Danya Hamad (SIS/MA '21) has graduated with a Master in International Relations (MAIR) from SIS and a Juris Doctor (JD) from Capital University Law School. We spoke with Hamad to learn more about what brought her to the SIS MAIR program, her time at SIS, and her plans to put her master's and law degrees to work in international human rights law.
A Passion for International Law
From an early age, Hamad wanted to be a human rights lawyer. A first-generation student, she started taking college courses when she was 13 in middle school, graduated with her associate's degree at 15, and then started a program at Capital University in Columbus, Ohio, that allowed her to complete both an undergraduate degree and law degree in six years. She graduated with her bachelor's degree in international studies at 17 and graduated with both her MA and JD this past May.
Hamad explains that her parents always encouraged her to look at things from an international perspective, not just a domestic one: "I would see American news channels and Western news channels and see the different things that they were reporting on—what was happening in the Middle East or Africa or Asia. But then my parents would also put on Arabic news channels, and I would be seeing the same issue but from a different perspective."
Growing up watching these different news channels, Hamad decided she wanted to practice law to take action against the injustices and human rights violations she saw happening around the world from such a young age. She enjoyed taking advanced coursework as a teenager; she enjoyed both the topics she was studying and also keeping herself busy.
"I really wanted to fight these injustices as early as I could," explains Hamad. "I was really happy to do my education at a young age and continue it because I crave that knowledge. So I thought, 'wow, if I can become a lawyer at this young age, that means I can also start advocating and fighting for human rights at a younger age.'"
Finding the SIS MAIR Program
After Hamad finished her first year of law school, she wanted to focus her coursework on international law and human rights, but those courses weren't offered at her law school. She started to look for online courses or certificate programs to take at night during her second year to supplement her law school courses.
Hamad found the SIS MAIR program through online research. She learned that SIS has one of the top-10 master's programs in international relations worldwide and chose to attend because of the prestige of the school. She started the MAIR program in January of 2020 while still a full-time law student. At the time, she also was completing an externship with the Ohio Attorney General's office.
Before attending SIS, Hamad had a narrower view of what career she could pursue that would combine her interests in law, international affairs, and human rights. Professor Tamar Gutner's Global Governance course showcased the different types of careers available to her in this space.
"Professor Gutner was showing us all of these international organizations and all of these positions that you can pursue with your MA degree," says Hamad. "I really enjoyed that class. I knew of all these different institutions before, but we took a deeper dive into what they really are."
She also especially enjoyed Professor Melissa Sinclair's Conflict Assessment/Prevention course, during which she learned more about her fellow students' different backgrounds: "I really loved the class in conflict assessment and prevention because it was an open discussion course; I got to share my perspective on everything while also understanding the perspectives of everyone else in that class."
Looking Forward
As she's doing her job search, Hamad has realized that her JD can supplement her MA in ways she hadn't considered before coming to SIS: "I'm really open to looking for policy positions where it helps to have my JD, but I don't necessarily have to be admitted to the bar to be able to have that position."
Even though she came to SIS interested in practicing human rights law, the MAIR program has widened Hamad's options, and she now is looking for both attorney positions and other jobs in foreign policy, international relations, and human rights.
"I really do credit SIS for showing me there are so many options," says Hamad. "Before attending AU, I was dead set on being a lawyer. But after having so many wonderful classmates and professors and seeing how all their different professions had relevance to both my MA and JD, I realize that I don't necessarily need to be a lawyer to do something I love in international affairs and human rights."