International
AU Community Conducted Critical Research during Afghanistan Evacuation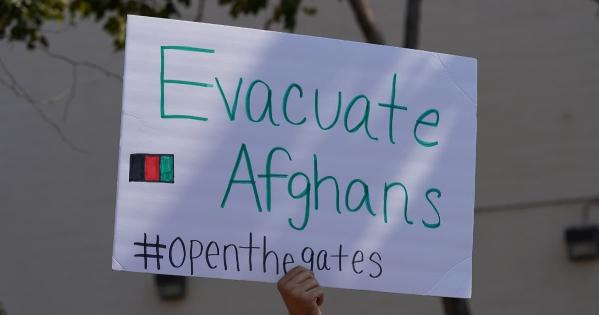 As evacuation efforts were unfolding on the ground in Afghanistan in late August, many people around the world watched, helpless and horrified. Rather than give in to despair, however, some at AU got to work, trying to collect information that would help everyone understand the enormity of the task of evacuating US allies from Afghanistan. Stephen Angelsmith, assistant director of global learning and leadership at AU's Center for Community Engagement and Service (CCES), worked to connect with organizations addressing the issue. He got in touch with the Association of Wartime Allies, an organization that needed assistance collecting data to help estimate the number of people in Afghanistan who might have been or are still at risk of being targeted by the new Taliban government.
SIS professor Tazreena Sajjad, who specializes in issues of state building and displacement and has lived, worked, and conducted research in Afghanistan, became involved in the project early on. After meeting with the Association of Wartime Allies, Angelsmith and Sajjad rallied AU student volunteers to help with the research project, which, under normal circumstances, would have taken months of work but needed to be conducted in a few days.
"We brainstormed, and we were able to say the best thing that we have is the activism and energy of our students," says Angelsmith. "We sent that e-mail with an urgent service appeal, and we got an unprecedented response."
Research in a Crisis Situation
Says Sajjad: "As a faculty member at SIS, this is what I do. I do research. I do analysis. I work with students. I know the caliber of our students in terms of their academic excellence and their commitment and their understanding of service. It made absolute sense to involve students—this is what they're being trained to do around the idea of international service, and what they are learning about how to using their analytical skills and organizational skills in the world they will be stepping into."
AU student volunteers, including many SIS undergraduate and graduate students, were organized into small groups that worked on raw data collection—sourcing public data to estimate the number of potentially vulnerable Afghan citizens and civilians who have worked with the US in Afghanistan. The groups looked for primary documents and data on different at-risk groups, including those in the education sector, nongovernmental organizations, and human rights activists or humanitarian workers.
"We wanted to have a very clear sense of how many Afghans were immediately vulnerable and have that data out there in the public," explains Sajjad. "That was the actual initiative—to have a sense of the numbers, make them public, and make sure that the administration was pressured to recognize the fact that this was a crisis that had been created by the US and a responsible response is necessary."
A Call to Service
Austin Bassard (SIS/BA '22) volunteered for the project after receiving the email from Angelsmith and Sajjad, one of his former professors. Bassard researched the number of Afghan nationals affiliated with the UN Assistance Mission in Afghanistan and found that more than 700 people were working in this capacity across the country. He utilized the qualitative and quantitative methods skills he'd learned during his time at SIS to complete the research.
"Going into SIS, I didn't think I would be doing research projects that were as time sensitive and as pressing as the situation that happened with the withdrawal in Afghanistan," says Bassard. "It encapsulates why I wanted to be in IR in the first place, which was to be part of the change and call to service in order to grapple with the issues in our world. Over the week, the project really did remind me why I chose to study at this school, and I was really fortunate to be involved in this kind of project."
Elizabeth Morgan (SIS/MA '23) works as an assistant at the US Committee for Refugees and Immigrants and responded to inquiries from Afghans in the US and Afghanistan during the evacuation in a professional capacity. As an MAIR student and vice president of the MAIR student council, she believed her experience would lend itself well to this project.
Like Sajjad, Morgan stresses the importance of humanizing the scale of those at risk in Afghanistan: "Understanding their values is so critical. Our efforts as researchers and academics can effectively report on at-risk populations to prompt a collective response and empathy for humans trapped in distant conflict zones. Resettlement agencies can also better serve Afghans who have evacuated to successfully integrate into society."
Defining Wartime Allies
According to Angelsmith, there was no standardized definition of wartime allies or vulnerable populations during the evacuation: "We would often hear the term 'US interpreters' or 'allies,' but the Biden administration did not define 'ally' or whether it included all women's rights advocates, education specialists, human rights workers, or development workers. What we did was come up with a list and categorization of several subcategories of people who we believed were reasonable to include in that definition."
The research revealed that at least 250,000 Afghans who may have been eligible for expedited American visas remained in Afghanistan before the evacuation deadline. And this estimate does not include the many Afghans who are not eligible for US visas and could be at risk from the Taliban because of their roles in the Afghan government, activism work, or status as a religious minority. The estimate made the front page of The New York Times only hours before the deadly attack that killed 13 US service members and a large number of Afghan citizens at the Kabul airport.
"The New York Times article mentioned the Association for Wartime Allies and researchers from American University—that was a very grassroots kind of in-the-moment collection of people from across our community, including alumni, undergrads, grad students, and even incoming students that may not have even started courses yet," says Angelsmith. "I was extremely proud to be part of a community that wanted to invest immediately and saw the urgency of something as complex and as fast moving as this situation. One individual or even one institution doesn't have a big impact on the reality of what was happening, but this was a tangible thing that we could do."
This research project has concluded, but other opportunities to assist Afghan evacuation efforts can be found on the CCES website.