International
SIS Welcomes Nobel Peace Prize Laureate Nadia Murad for Virtual Event October 19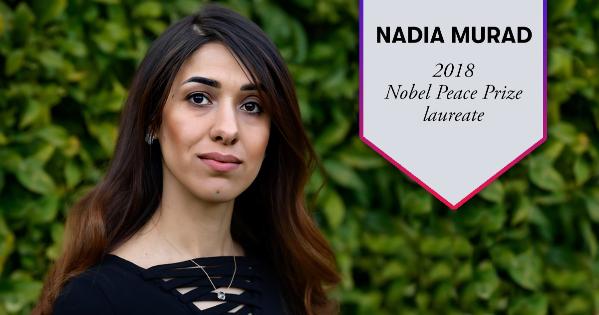 To mark 2021 as the 120th anniversary of the Nobel Peace Prize, SIS hosted a virtual event on October 19 highlighting the important work of 2018 Nobel Peace Prize laureate Nadia Murad. Murad, a current AU student, was awarded the Peace Prize for her efforts to end the use of sexual violence as a weapon of war. She advocates for survivors of genocide and sexual violence, and she has written about her own experience as a prisoner of ISIS in Iraq. SIS professor Tazreena Sajjad led a conversation with Nadia about the crucial work of her organization, Nadia's Initiative, as well as the significance of winning the Nobel Peace Prize. We spoke with Nadia ahead of time to learn more about some of her work.
Nadia, part of your advocacy work includes speaking out on behalf of the Yazidi community, an ethno-religious minority in Iraq who have been persecuted and of which you are a part. How widespread is the Yazidi diaspora, and how much more needs to be done to re-develop the Yazidi homeland?

Since the Genocide, hundreds of thousands of Yazidis have been displaced, and the diaspora has grown. Many Yazidis now live in Germany and the United States, among other countries, but the vast majority (over 200,000 people) are still internally displaced in the Kurdistan Region of Iraq. They are stuck without viable paths to resettlement or return to the Yazidi homeland in Sinjar, which still lacks sufficient resources and services to support basic needs. Nadia's Initiative is working to facilitate access to education, healthcare, water and sanitation, livelihoods, and support for survivors of ISIS captivity, but we have only just begun and cannot restore the region on our own. More needs to be done in every one of these sectors in order to facilitate a safe and sustainable return for displaced Yazidis.

In 2016, you became the first United Nations Goodwill Ambassador for the Dignity of Survivors of Human Trafficking. What were you able to accomplish in this role?

The fact that I was the first Goodwill Ambassador for this issue should tell you about the lack of attention to human trafficking throughout recent history. Over the past few years, I have worked alongside many incredible activists and leaders to bring human trafficking and sexual violence into the limelight. We are beginning to shift the narrative away from the conception that these are women's issues that do not have a place in high-level diplomacy to an understanding that sexual violence is a mainstream tool of warfare that affects entire communities. For this reason, sexual violence and human trafficking must be addressed at the highest level.

You started Nadia's Initiative in 2018. What Nadia's Initiative project brings you the most personal joy?

What I am most proud of is not a specific project but the fact that all of Nadia's Initiative's programs are developed and implemented alongside the community in Sinjar and center on survivors of sexual violence. Over and over again, my community has been given false promises by the Iraqi government and deprioritized by international aid groups. Nadia's Initiative's approach makes space for the agency and involvement of community members, which I think is vital to a sustainable and empowering recovery.

What role do you think the Nobel Peace Prize plays when it comes to raising support and awareness of global issues?

The Nobel has been meaningful to me because it raised awareness of my cause. People pay attention when they hear the word "Nobel." In my case, I hope that it encourages people to learn more about the Yazidis. Before ISIS's genocide, no one had ever heard of my community, and I think that was a contributing factor to why local and international authorities failed to come to our aid. Awareness is a necessary first step for justice, support, and prevention.

What do you hope attendees will take away from this upcoming event?

I hope students leave with an interest in learning more about Yazidis and other communities in the Middle East. So often, the lessons that are taught about the region tell a story of regime change and oil disputes. The human element is lost. Minority communities like the Yazidis are invisible in this version of history. It does not show how women and girls pay the price of war, instability, and poverty. I encourage students to learn more about the Yazidis and other minority communities, to raise their hands in class to ask about the human side of history, and to understand how current events impact women and girls.