Research
Who Lives in Russia's Backyard?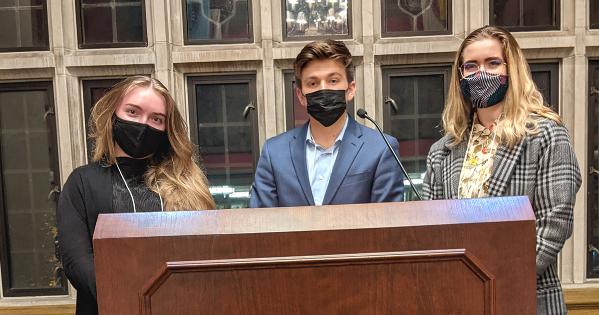 While teaching his undergraduate courses, SIS professor Dylan Craig found that he had a number of students who were interested in Russia, and this catalyzed a new research project idea. Craig was inspired to assemble and supervise a team of students working to re-examine the notion of a country's sphere of influence by looking at Russia's actions in the breakaway regions of Crimea, Transnistria, Abkhazia, and South Ossetia.
Graduate student and Craig's research assistant Rebecca Slavik, SIS/MA '22, and undergraduate students Isabella Baker, SIS/BA '21; Luis-Manuel Gutierrez, SIS/BA '24; and Margaret Willis, SIS/BA '22 took part in the project, which won financial support in the form of an SIS Dean's Summer Research Award. Over the span of eight weeks, Craig and the students conducted econometric modeling and analyzed open-source intelligence (OSI) to investigate what Russia's sphere of influence looks like today.
"It was really serendipity," says Craig. "You have four people…you've seen the work that they produce and understand what they would be capable of if they could only be given institutional support for it."
What Constitutes a Country's "Backyard"?
The idea of a country's sphere of influence, or "backyard," has traditionally been made up of places that border it. But in the globalized world of the 21st century, this definition is outdated. According to the research team, Russia's occupation of several territories in Eastern European countries has resulted in those regions becoming "geo-economically decoupled," or isolated, from the rest of international relations.
"If states only intervened along the borders, the spatial definition of 'backyard' would be fine. But states, especially in the modern globalized world, often intervene two, three, four countries over, and so for us, the 'backyard' shouldn't be measured just spatially, but in terms of economic reach," says Craig.
After Russian forces enter a conflict taking place in a breakaway region, establish some form of sovereignty over the area, and recognize it domestically, that region still isn't accepted formally on the international stage and can't conduct economic or diplomatic relations like an independent state. For example, when conflict erupted between the Georgian government and the breakaway region of South Ossetia in 2008, Russian forces invaded Georgia to support the Ossetians, and after the conflict ended, Russian "peacekeepers" stayed in the breakaway region to provide support. However, South Ossetia is not recognized independently by a majority of UN member states, and they are dependent on Russia economically and as their link to the rest of the world.
The team states in the project's paper their concern that this form of decoupling "produces the kind of neo-colonial domination throughout the region; an Iron Curtain not of barbed wire and tanks but of invisible economic indenture."
Spotlighting Breakaway Regions
The students each focused on specific regions for the research project. Baker examined Transnistria, a breakaway region in Moldova; Gutierrez analyzed South Ossetia in Georgia; Willis looked at Abkhazia in Georgia; and Slavik studied Crimea.
Baker first became interested in Transnistria when she was 16 and went to Moldova through the State Department's National Security Language Initiative for Youth to become familiar with the Russian language. This sparked her interest in Transnistria specifically and Eastern Europe as a whole, which continued to flourish when she came to AU.
"There has been such a lack of research published about Transnistria, and it's fascinating to contribute to an area of knowledge that doesn't seem to have much on it yet," says Baker. "I just want people to be familiar with this region—to know that it exists."
Along with examining Crimea, Slavik also helped Craig build an econometric model that the team could use to find any costs inflicted on Russia's economy by its interventions in these breakaway regions. She helped build the methodology from the ground up, looking for different ways to spot market shifts in Russia.
"This type of project has an economic focus, and a lot of times—when it comes to these kinds of Russian interventions—there's a lot of focus on the military aspects and international politics aspect but not the economics, which is a bit shocking because in so many of these cases, Russia's trying to create economic pressures," says Slavik.
An Opportunity to Use Russian Language Skills
To compliment the economic data that the team gathered and analyzed, the students used their knowledge of the Russian language to collect OSI data. Craig emphasizes that this type of qualitative data plays an important role in explaining what is happening in the different regions. Gutierrez, for example, investigated cryptocurrency trading and influencer economies in South Ossetia (both of which economically benefit Russia), and part of this research required that he watch and interpret YouTube videos of Georgian influencers.
Baker scanned Instagram tourism accounts that included ""#Приднестровье," the Russian word for Transnistria, in their bios and focused on popular posts that centered on the breakaway republic's tourism industry: "Studying the Russian language in high school and continuing to do so at AU was crucial for me to understand the meanings of these posts."
Slavik looked at the Instagram posts of individual Crimeans on Instagram to get a better idea of what circumstances were like for people in the region: "Open source information can, in so many ways, be much more real than the information you could get from a newspaper in these regions. These are posts showcasing a person's day-to-day life that you can track and watch."
Presenting Their Work to Experts in the Field
In November 2021, the research team travelled to present their project at the IS-ISSS conference on "Emerging Conflict Domains," which took place at Indiana University in Bloomington, Indiana. The team members were some of the youngest attendees at the conference and gained applicable experience in the international affairs field by presenting their research.
"It was the first time I'd ever traveled to present research and the first time I ever presented research at this level," says Baker. "Folks get to present research in classes, but this was in front of PhDs and other professors….I was gratified by how many people actually showed up and was proud to have contributed to the presentation."
According to Craig, the team plans to continue working on the project's paper. They may even conduct a second round of research to dig deeper into this topic.
"A number of people at the conference came up to the students to ask them what their PhDs were in or if they were PhD students," says Craig with a proud smile. "When students get to work with faculty to produce original research, they become better prepared to analyze and understand the world around them."