International
SIS Professor Amplifies the Voices of Women Trade Experts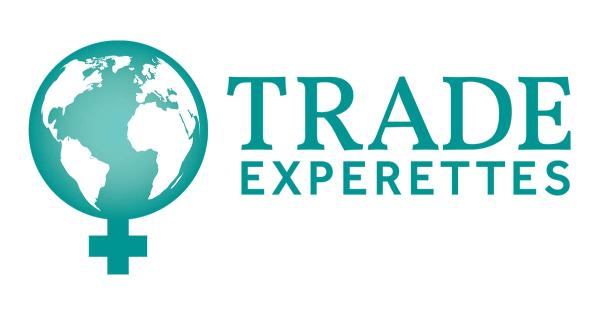 At SIS, faculty not only serve as scholars, experts, and practitioners in their fields, many also actively work to further diversify those fields. In the world of trade policy, men's voices and viewpoints have been dominantly showcased in the media and at industry events, while women experts in this field have not received as much attention. Professor Michelle Egan works to address this disparity through an organization she helped found, Trade Experettes.
A Network of Women Trade Experts
Trade Experettes is a membership-based organization that aims to empower women who work in trade policy around the globe as well as spread awareness of their accomplishments. It was created in 2018 when, in the midst of the negotiations to modernize the North American Free Trade Agreement (NAFTA), news organizations were predominantly referencing and featuring male trade experts. Hanna Nordberg, a trade policy advisor and now the president of the Trade Experettes, reached out to Egan and several other women in her professional network, expressing to them that this was just one of many instances when women trade experts' voices were excluded from such discourse. The group agreed that women's voices needed to be more actively promoted.
"We saw that there was a lack of visibility of women in this field," says Egan. "It was almost as if there were no female experts on trade, which is not true. That's why we came up with this organization: to shine a light on women in trade through a variety of means and to raise the visibility and credibility of our expertise."
Addressing the Barriers to Women in Trade
The organization works to increase awareness of women trade experts and open more professional doors for them through mentorship; writing; Trade Confidentials, which are members-only seminars to discuss current issues with experts; and professional development opportunities.To promote their members' voices and ideas, Trade Experrettes has partnered with The Economist and the World Trade Organization (WTO) to provide speakers at the organizations' high-profile policy events, including The Economist's annual Global Trade Week conference and the WTO's Public Forum in Geneva.
Trade Experettes' efforts have been supported by various state governments that focus on the issue of gender and trade, having secured funding from such governments as well as foundations and the private sector. Members have actively conducted research on trade policies and have even presented a report to WTO ambassadors that breaks down how to address issues surrounding women in trade.
A project that's in the works at Trade Experettes is a partnership with the University of Cape Town's Nelson Mandela School of Public Governance. The organization is currently working with the school to form training programs and raise funds to give younger women interested in trade policy the opportunity to acquire internships and work experience in the field and attend international trade forums that take place in Geneva; Washington, DC; and Brussels.
Elitsa Garnizova, an executive board member of Trade Experettes and the founder and director of the Trade Policy Hub at London School of Economics Consulting, emphasizes that the organization catalyzes members to creatively share their ideas amongst each other, propel their own work, and come up with ideas for programs: "The events and ideas that members come up with are different and exciting because they stem from this unique perspective of over 300 women located in different parts of the world coming together and collaborating."
Expanding Whose Voices Are Amplified
According to Egan, Trade Experettes started with members predominately from Europe and the United States. Over the years, the organization's leadership have actively worked to change this.
"We wanted to make sure we had representation globally, and prioritizing diversity, equity, and inclusion is a foundational goal of the Experettes," says Egan. "We don't want to just hear from people who are in the United States or countries in Europe. We want to make sure we have a multiplicity of voices and experiences, particularly from the Global South."
As a faculty member in the Comparative and Regional Studies master's program, Egan recognizes that trade decisions made at the international level impact and involve different regions. Also, each region contributes a different view and a different context when it comes to the implementation of trade policies. She stresses that it's important to look to various models of trade policy—not just those from Northern Europe.
At Trade Experettes, membership has become more diverse, and accommodations have been made so that women trade experts from any corner of the world can participate in programs. Organizers of Trade Experettes' virtual, member-only events make sure that they take place at different times to accommodate members in various time zones. The organization also works to promote the accomplishments and expertise of members from small states, such as Trinidad and Costa Rica.
An Emphasis on Mentorship
Mentorship is a keystone of the Trade Experettes. The organization's collegial environment is meant to help form and bolster professional relationships among the members so that they can learn from and support one another.
"We have a WhatsApp group through which any of us can send a message regarding, say, a media request for an expert on a certain trade-related topic. Or ask, 'Hey, I have a question about such and such. Would anyone be willing to help me?'" says Egan. "We have a pretty informal culture."
According to Garnizova, mentorship opportunities with other women in trade are valuable for those just starting out in the field. She believes that having a woman mentor can help young professionals develop the confidence that they themselves can also go far in trade policy.
"A strong woman mentor can provide inspiration and help you get into the mindset that anything is possible—that there's no harm in exploring all kinds of opportunities and no need to limit yourself before even knowing what the outcome will be," says Garnizova. "You might be a perfect fit for a certain position in trade policy, but as long as you limit yourself, you'll never know."
Says Egan: "Along with boosting and amplifying the voices of women in trade, we want to help create the next generation of women in this field. Access to a network of mentors—a network that's open and supportive—that makes a big impact on someone's career."