Alumni
SIS Student, Alumni Find Career Success Combatting Online Disinformation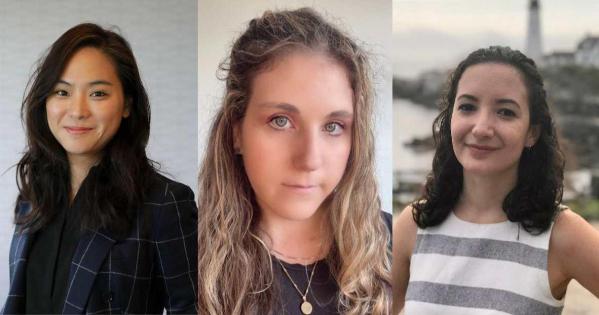 The spread of disinformation online has become an important topic and reason for concern in recent years, especially over the past decade. The idea of "disinformation" has existed throughout media history, including the so-called yellow journalism of the 1890s and the tabloid boom of the 1980s and '90s. Governments have frequently used the media to spread disinformation in the form of propaganda and control of the press, with notable examples including the Nazi Party of Germany in the 1930s and '40s and the Russian government under Vladimir Putin.
Digital disinformation has taken on new importance and revealed new threats to not only individuals but also national and international security. How does SIS prepare students for careers working to effectively combat disinformation online? We caught up with alumni Anna Chung, SIS/MA '10, Emily Tavenner, SIS/MA '22, and current student Danielle Samler, SIS/MA '23, to discuss their careers in this field.
Researching Threats in Cyberspace
Anna Chung understands the importance of international and intercultural communication on a deeply personal level. Growing up as a child of parents from two different cultures and leaving Taiwan to attend SIS, Chung found understanding and clarity in her studies in the International and Intercultural Communications (IC) master's program. Chung fondly remembers SIS professor Nanette Levinson encouraging her students to go beyond the assigned content and always be open to learning through lived experiences.
"I was having doubts about my identity and who I was, and the IC program, with all of its training and experiences, helped me process the feelings I was going through. It was therapeutic to be able to learn about myself while learning about other cultures in a healthy and positive environment," says Chung.
Chung knew she wanted to use her knowledge to fight emerging technology threats and protect international security. Today, she is based in Amsterdam as a principal researcher for Unit42, a global threat intelligence team at PaloAlto Networks in the Netherlands. The team examines a wide range of disinformation cyber threats, including internet security, phishing, malware, ransomware, and hacking. Chung's individual work focuses on researching financially motivated cybercrime and underground online markets.
"In order to analyze these markets, I use a lot of what I learned in the IC program to understand the criminal's behavior, how they globalize, how they collaborate and spread information, and how they utilize intercultural communication within their networks," explains Chung.
Improving Disinformation Education and Awareness
Danielle Samler's interest in peacebuilding and human rights may not seem related to digital disinformation, but for her, the connections are clear. After working in New York with various UN advocacy-related nonprofits, she decided she wanted to work to improve the efficiency of the human rights field by identifying and prioritizing areas of concern and improving the services and delivery of relief and aid efforts. She searched for a graduate school that would challenge her to make a difference while offering her flexibility and a variety of learning opportunities. Samler is currently a student in SIS's Ethics, Peace, and Human Rights (EPHR) graduate program and will graduate in 2023. She was initially drawn to the EPHR program because of the unique combination of disciplines and numerous specializations that the program offers as well as her desire to effectively and sustainably protect human rights through work in the digital space.
"I'm really interested in data ethics and how it relates to human rights, so that's the direction I've taken my studies at SIS and the EPHR program. I've been able to hone that skill along with the other program content," says Samler.
When she isn't in class, Samler combines her academic and professional interests in her work as an executive administrative assistant for the Cybersecurity Infrastructure Security Agency (CISA), a division of the US Department of Homeland Security. CISA provides the government and the public with resources and educational materials to increase awareness of disinformation, improve personal internet hygiene, and offer ways to protect against future cyberattacks. Samler manages communications, including talking points and speeches, and does data research: "With so much new and evolving technology, it really complicates and escalates the threat of disinformation, and cyber attackers are continuously increasing their toolkit of ways to target vulnerable people." 
Shaping the Public Debate on Addressing Disinformation
Emily Tavenner, whose family is originally from the Soviet Union, has spent much of her life immersed in intercultural communications and relations. After growing up watching her parents confront and conquer the challenges of interacting with a new culture in a new country, she knew that joining the IC program at SIS was the right fit. Aside from being able to apply her intercultural experiences to her studies, she was drawn to IC because of its wide variety of specializations, including technology policy.
"I was really interested in how the program allowed you to focus on the developments of information and communications technology as well as how those developments intersect with policy and culture. I've grown up with the internet, so I've had a front-row seat to the shifts in cultures and norms in online communities," says Tavenner.
Tavenner's interest in the intersection of disinformation and technology began when she worked as a political media analyst during the 2016 US presidential election. She saw how digital tools were used by various actors to shape political discourse in online communities and became fascinated with how social media campaigns played a role in the election's outcome. Today, she works as a communications manager for the Information Technology and Innovation Foundation (ITIF), one of the world's leading think tanks for technology policy and innovation. At ITIF, she translates the think tank's research on information technology, data innovation, and telecommunications issues into messaging that can reach and be understood by general audiences. The research covers a slew of topics, including online content moderation in the face of disinformation campaigns.  Tavenner works with ITIF analysts who focus on US tech policy as well as analysts based in Europe who focus on tech policy issues in the UK and the EU.
"It's exciting to engage with policy in this way," says Tavenner.  "The public debate around an issue like the future of online content moderation is filled with many voices and takes. I work to make sure ITIF's findings and analyses are not only heard in the cacophony but that they're also shaping that public debate. The conversations around how to improve addressing disinformation are important and play a huge role in the future of online spaces."