Alumni
Growing Global Awareness Through Storytelling SIS Graduate Geeta Raj Nurtures Young Global Citizens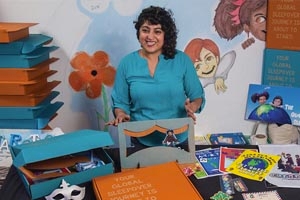 In 2011, Geeta Raj (SIS/MA '03) launched The Global Sleepover - an organization that uses interactive storytelling to teach children about the world. By sharing stories from different cultures and countries, her team helps children become more thoughtful global citizens.
We caught up with the School of International Service (SIS) graduate to hear more about her work, her AU experience and her impact.
Q: What are your goals with The Global Sleepover?
A: Today more than ever, it's so important for children to develop 21st-century skills, including how to live in a multicultural society. We must teach about diversity and tolerance. At The Global Sleepover, our goal is to nurture tomorrow's generation of global citizens, using stories and technology.
The idea is that we have this interactive story content, and we do three things with it: first, we create stories and storybook apps. These are interactive, fully illustrated multimedia storybooks that children can read on iPads. Each story is about a different country or adventure. We then give these books to schools and other organizations.
Second, we take those stories and do events and workshops with them. For instance, we may do some samba dancing if it's Brazil. Or, the kids write a story about their imaginary journey in Brazil. Lastly, we sell subscription activity boxes to teach kids about the world, which are basically everything we're doing in the workshops, packaged in a box that we mail.
Q: Taking a step backward, how did you first become interested in international affairs?
A: In college I pursued humanities. My plan was to get an MFA in creative writing and go work for a non-profit abroad. I was always very passionate about social affairs, social justice, human rights and trying to do my part - I just never knew it could be a career.
But then, as I was applying to graduate programs, I found out there was this whole field of study around international affairs. I thought, that's something I'd really love to do. I knew I needed a school that met my needs and would open a career path for me. And AU's reputation preceded itself.
Q: Could you talk more about why you chose AU?
A: While I was searching, I spoke with an AU alum who told me if I really wanted to use my degree as a launching pad for a career, then go to AU. AU also has that mix of the theoretical academic side and practical, real-life application. So, I chose SIS because I wanted something that was going to give me the foundation to work in this field.
Plus, it's located in DC with plenty of opportunities for access, and is among the top international affairs schools.
Q: How do you feel your organization is making a difference?
When you can see that students are empowered to learn about the world - and you know you planted that seed - that's inspiring!
Our goal is to use aspects of storytelling to increase global understanding. But for me, it also comes down to making education accessible. Whether you do that through fun stories on an iPad, or through sending storybooks across the ocean to kids who don't have any, it's about closing the education gap.
--
Learn more about AU's graduate programs in International Development a nd International Peace and Conflict Resolution and request information.