International
Professor Awarded Prize for German Scholarship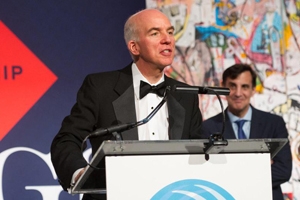 SIS Professor Stephen J. Silvia received the 2014 German Academic Exchange Service (DAAD) Prize for Distinguished Scholarship in German and European Studies for his academic contributions to the field of Economics/Political Economy/Economic History. Silvia accepted the prize in December at the American Institute for Contemporary German Studies (AICGS) Award Dinner in New York.
"I am deeply honored to receive such a prestigious prize. It means a great deal to me because it was awarded by a jury of my peers, and it is in recognition of my entire body of research over almost three decades," Silvia says.
Every year, the AICGS awards the DAAD Prize to an American scholar who has conducted exceptional work in one of three major areas of research: Foreign and Domestic Policy Studies, Business and Economics, and Society, Culture, and Politics. The goal of the award is to foster American scholarship on Germany and to encourage innovative contributions to the interdisciplinary scope of German Studies.
Silvia, the twentieth recipient of the DAAD Prize, is an internationally recognized scholar in the field of comparative industrial relations. His research focuses on Germany, the European Union, and the United States. Silvia's recent book, Holding the Shop Together: German Industrial Relations in the Postwar Era , examines the evolution of the postwar German economy through industrial relations. Germany's industrial relations regime, Silvia argues, has influenced developments in the German economy and, frequently, industrial relations practice abroad.
Currently, Silvia is researching the industrial relations practices of German automobile "transplants" in the United States. He has also written about a variety of economic issues including public pensions, eastern German economic developments, employment and unemployment in Germany, and the impact of the euro on European labor markets.
Silvia teaches comparative industrial relations, comparative politics, international economics, and international trade relations at SIS.