Alumni
Sowing Opportunity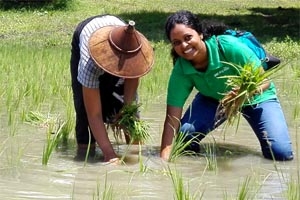 Dilanthi Ranaweera, MA '15, wants rural, low-income farmers to have more opportunities: access to health care; education; better technology; and the chance to simply take a vacation.
As a field operations lead, she provides the means to access them by removing income barriers preventing progress.
Putting Farmers First
A School of International Service (SIS) graduate, Dilanthi works with monsoon rice farmers in a rural region of Myanmar. She manages the operations team at One Acre Fund, a US NGO that serves smallholder farmers increasing their harvest and household profit.
"One Acre Fund strongly believes in putting the farmers first. We care deeply for our farmers' well-being. I love working for an organization that insists on putting the customer – our farmers – at the center of all decision we make."
Like One Acre Fund, Dilanthi believes the best way to serve her clients is to live and work in the same area as them. She lives 30 minutes away from the fields and visits them often to see the challenges her farmers and staff face first-hand.

"I literally get my feet muddy with our farmers regularly. As the Field Operations Team Lead, I travel to our farmers' fields and houses to understand their farming needs and to support them with cultivation."
Developing a Career at SIS
Dilanthi was first introduced to development work in her home country of Sri Lanka, where she worked in the country's formerly war-torn rural areas after finishing her undergraduate studies. It was there she realized she wanted to focus on income generation for rural, low-income populations by pursuing a degree in international development.
She chose AU because of the curriculum, which balanced theory and practice, the prestige of the School of International Service, and the ability to cater her degree to her specific interests.
What stands out most about her AU experience were the connections she made – the people she got to know, learn from, and grow with. All of her internships came to her through alumni connections, and she learned about her current role through a classmate.
"I think for graduate school in general, one of the biggest things you want to accomplish is having that network, that community, and SIS provides it so well."
Breaking Income Barriers
Most of the world's poor live in rural areas, like the rice fields of Myanmar.
"Typically the rural, smallholder farmer is in a low-income tier, and is 'poor.' He or she does not have access to certain resources, does not have enough money to send their child to school, does not have enough money for health care, is in perpetual debt. And his or her entire livelihood is dependent on agriculture."

By working with them, Dilanthi strives to give them a better quality of life.
"Improving the farmers' crops and yields – and as a result, their whole household income – not only improves their family's livelihood and well-being, it also provides food for their community, as well as the world."
---
Learn more about AU's graduate program in International Development and request information.