In the Community
"The Case for Reason": Dr. Zbigniew Brzezinski Discusses World Politics at SIS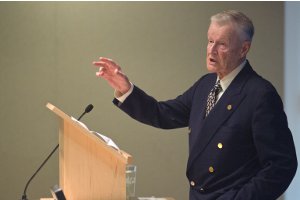 Noted strategic thinker Dr. Zbigniew Brzezinski spoke about his latest book, Strategic Vision: America and the Crisis of Global Power at the School of International Service on Wednesday, April 17, in the Abramson Family Founders Room. In his introduction, SIS Dean James Goldgeier noted, "I'd be hard-pressed to find someone who embodies the term 'scholar-practitioner' better than Dr. Brzezinski."
In his book, Brzezinski discusses the applicable strategies for looking ahead geopolitically, especially given the challenges between countries in the past. During the talk, he built on the theme by mentioning a number of realizations: that the U.S. is now living in a post-hegemonic era; that the U.S. has emerged supreme from it; that if the U.S. is to avoid turmoil, "a particular effort must be made to create stability in world politics," he explained. To do that, he concluded, stability must be created in the Eurasian continent.

"We must do things that create equilibrium," Brzezinski said, explaining the balance of power that must occur between the East and West. The West is stable politically and security-wise, though "Europe is fatigued [and] preoccupied with its problems…. The west must draw Turkey and Russia into the greater Western community," he exhorted.
In contrast, Brzezinski pointed out that China exemplifies one of the new sources of power. "It is very important to create some sort of relationship with the East," he said. "Without that, the East would degenerate."

During the question and answer session, Brzezinski addressed the topics of Iran ("the Iranian nuclear threat is exaggerated," he said), the Arab Spring ("we're witnessing populism, not democracy"), and NATO ("[it's] important because it's needed… Europeans haven't invested in it the way [the U.S.] has."
Brzezinski currently teaches American Foreign Policy at Johns Hopkins' School of Advanced International Studies, but he is perhaps best known for serving as the United States National Security Advisor to President Jimmy Carter from 1977 to 1981.