International
Christine BN Chin leads the way as SIS interim dean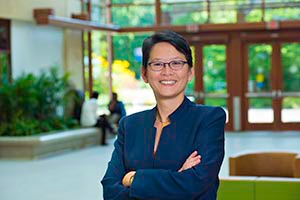 Effective August 9, Christine BN Chin begins an appointment as Interim Dean of the School of International Service (SIS). As interim dean, Chin will manage the school at all levels and will assist with the search for a new permanent dean. She succeeds Dean James Goldgeier, who has transitioned into the SIS faculty as a professor of International Relations. Dean Chin is the first woman to lead the school.
"There's a lot to be proud of at SIS," says Dean Chin of the school she has called home for more than 20 years. "I firmly believe the continued success of the school rests on four pillars: Faculty, staff, students, and alumni. When all four are well and strong, nothing is impossible."
Dean Chin first came to SIS as a student (SIS/PhD '95) and joined the faculty in 1996. She has served on numerous boards and committees at SIS and across the university, including strategic planning and budget committees, SIS's Faculty Action Committee, and director of the SIS International Communications program. She is on a one-year leave from her current position as executive director of the Center for Teaching, Research, and Learning (CTRL) to serve as Interim Dean of SIS.
"In many ways, Dr. Chin is the ideal candidate at this moment in time. As a longstanding member of the community who is intimately familiar with SIS's programs and the school's operations, she is well-prepared to step into the role of interim dean," said Provost Scott Bass in a letter announcing Chin's appointment to the university community.
"Dean Chin is an excellent choice for interim dean. She is the epitome of the SIS scholar-teacher model," said Professor Carolyn Gallaher. "She does groundbreaking research and her students love her classes and respect her willingness to push them intellectually. She's also always been exceptionally supportive of her colleagues. I look forward to working with her as SIS searches for a new dean."
In her field, Dean Chin is an expert in migration, political economy, and intercultural relations. She first became interested in the field when she was confronted with the abuse of an Indonesian woman domestic worker in Malaysia. Dean Chin began to ask basic questions about how and why this woman found herself in her current situation. The questions led Dean Chin to examine contemporary structures and processes of cross-border migration.
"Some say I am a global migration scholar, but because my work builds on also feminist research, some would call me a third wave feminist. Others would call me a critical political economist. But that just shows you how interdisciplinary research draws on and feeds into different areas," said Chin.
Multi- and interdisciplinary research is one of Dean Chin's points of pride when it comes to SIS. She notes that with the school's wide ranging expertise and student research interests, SIS is poised to tackle most any pressing issue the world faces today: "We've got in-house geographers, demographers, anthropologists, sociologists, historians, political scientists, economists, jurists, etc. engaged in the kinds of research that translate into policy and practice. Where are you going to find an APSIA school that has what we have in terms of faculty expertise and the students?"
Through her work with CTRL, Dean Chin is committed to identifying innovations in teaching that help faculty learn new, effective ways of instruction. As a teacher herself, Dean Chin has been honored with the 2010 American University Faculty Award for Outstanding Teaching and with the 2014 SIS Scholar-Teacher of the Year Award.
"Professor Chin's sincerity and level of engagement in the classroom reinforces that choosing SIS was the right decision for her students. As her former student, I consistently looked forward to lively class discussions and introspection she facilitated and left inspired to pursue my own questions about the class's topics," said Essence Lee, SIS/MA '18.
Dean Chin assumes the role as SIS celebrates its 60th anniversary and looks forward to a year celebrating the past and looking toward the future. At the conclusion of her time as interim dean, she hopes that the four pillars of faculty, staff, students, and alumni have a renewed sense of pride in the work that happens at SIS.
"My job is to remind people of our foundation and how far we've come. Our school is rooted in a multidisciplinary community engaged in the major issues of the day. We are about research, teaching, policy, and practice in the service of improving the human condition at intersecting local, national, and global levels. Thus our name: the School of International Service."