International
Connecting online with on-the-ground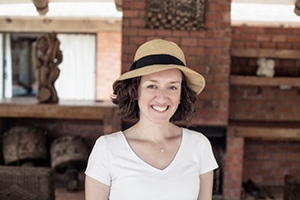 Julie Polumbo, SIS/MA '16, a student in the International Relations Online Master's program (IR Online), participated in the Democracy and Development in South Africa summer seminar in May 2016. We asked Julie to tell us more about her study abroad experience.
Q: Tell us a little about yourself.
I am currently a student in the IR Online program and am earning my Master of Arts in International Relations with a concentration in International Development. I began the program in September 2014 and plan to finish December 2016.
The program has allowed me to simultaneously pursue my career goals and balance life as a military spouse. While pursuing my degree, I served in Zambia with the Peace Corps as a national malaria coordinator. My husband was completing training in sub-Saharan Africa at the time. He has recently been promoted to Major in the U.S. Air Force, and I moved to Kinshasa, Democratic Republic of Congo, to join him this past December. Recently, I started a position at the United States Agency for International Development (USAID) in Kinshasa as the Education Program Advisor. In the past two years, I have lived in California, Zambia, and DRC. Without the flexibility of the IR online program this would not have been possible.
Q: Congratulations on the new position! What will you do there?
Thank you! The USAID/DRC education team works to promote literacy, girls' education, and accelerated learning programs for out of school youth. I will support these efforts through monitoring, evaluation, and learning. I have seen development from the implementing partner and academic side, so this position will give me the unique perspective of a donor agency.
Q: Can you describe the study abroad session you attended in South Africa?
In May, I participated in the South Africa: Democracy and Development course led by Professor David Hirschmann. There were 10 students from five SIS degree programs, three of whom I already knew from the IR Online program; I had completed a group project with one of the students. It was great to meet my peers face-to-face, and we became close throughout the course. I could not have asked for a more perfect study abroad opportunity, and I feel very fortunate that I was selected.
Q: What did you study and do while you were there?
My peers and I participated in an on-campus workshop and also spent two weeks at the University of Cape Town, engaging with prominent South African academics, politicians, and non-governmental activists on critical issues facing the country and the region. Overall, our goal was to analyze the political and social themes affecting South Africa, including democratization and political reform, security, public health, ethnic and national identity, poverty and unemployment, decentralization, and local governance.
We also had the opportunity to partake in site visits and field trips to non-governmental organizations (NGOs), political parties, and business leaders. The presentations were thought provoking and intriguing. Visiting the Cape of Good Hope was also fascinating!
Q: Why did you pursue this summer session and what do you feel you gained from your experience?
Since I am nearing the end of my program, the study abroad course was a fantastic way to take the broad lessons and theories I've learned and focus them one the specific and unique case study of South Africa.
It was also great that I could finish this course in two months, while rounding out my online education with experiential learning. One of my regional specialties is sub-Saharan Africa, and I wanted to learn more about South Africa because it is viewed as one of the leaders of the continent.
In summer 2016, the SIS Office of International Programs offered six short-term international programs facilitated by SIS faculty and partner institutions abroad. These programs, offered every summer, are available to all students and can be an excellent way to earn credits towards your degree, expand your international network, and engage with SIS students and faculty in a dynamic setting abroad. To learn more about SIS summer abroad programs, click here