Government and Politics
Three I's — Iraq, Iran, Israel-Arab Conflict — will Challenge Bush's Successor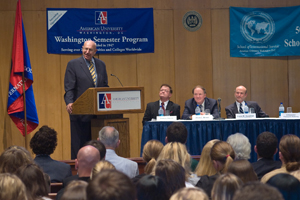 Renowned diplomat Thomas Pickering outlined the foreign policy challenges facing the next president to a standing-room crowd of AU students and faculty last week at the Kay Spiritual Life Center.
In Pickering's four decades of foreign service, he served as U.S. ambassador to the United Nations and as ambassador to key countries, including Russia, Israel, and India.
"Now as never before, there is a need for multilateral diplomacy," said Pickering, who retired in 2001. The last few years have seen both a failure of multilateral democracy and a reawakening of commitment to it.
Geographically the most challenging region will remain the Middle East, with the "three I's" or Iraq, Iran, and the Israel-Arab conflict, he predicted in his talk.
Among the mistakes made in Iraq is the tendency to treat it as a military or security problem, "forgetting that all conflicts have a political dimension," he said. The surge has "given us a basis for moving ahead," he said, now the Unites States needs to recognize that regional players, such as Saudi Arabia and Turkey, should be enlisted to play major roles in working out Iraq's future.
"I believe we need some international negotiators. Not Americans, but appointed with active U.S. support," he said.
Iran needs to be on the front burner because of its support for terrorism and interest in nuclear development. He contended that "the present policy of 'no enrichment' is getting us nowhere," and proposed that the United States and its allies call Iraq's bluff, as it were, by being prepared to permit civilian nuclear development as long as it is conducted with international partners who could guarantee transparency.
In effect, this would permit Iraq to do what it claims it wants to do, while building "a firewall" against using the facilities to become a nuclear power.
With regards to Israel, the "bicycle principle" is particularly relevant, he quipped: "If you're not riding forward, you're falling down." In the last years, the lack of effort put into forward movement has highlighted the "unrestrained capacity to move backward."
Just to the east, in South Asia, it has become clear that Pakistan is not a center of a new flowering of democracy but a "cockpit of major problems," he said. This puts the United States in a difficult position, because future success in Afghanistan depends greatly on Pakistan.
Meanwhile the next president will also need to face the emergence of serious rivals to U.S. power, particularly China, Russia, and ultimately India and the European Union.
Pickering put disarmament, nonproliferation, and terrorism into the same basket of issues, noting that terrorism is important in itself, "but becomes existentially important for us as a country should terrorists begin to possess nuclear weapons."
Energy, the environment, and climate change are other major concerns for the nation. The new president will have to decide on a course for the United States to pursue, enlist partners, and determine how much research money to spend on what sorts of development.
The world will continue to seek U.S. leadership in the perennial questions about development, particularly surrounding health, food, and water. These have become increasingly challenging, he said, now that "people are seemingly tired of development" and "there's little leadership in that issue."
International macroeconomic stability, finance, and trade are also issues that can't be ignored. Pickering decried the tendency to use protectionist rhetoric as a "short-term way of getting votes," and said "we must be cautious and careful about adopting too much of a protectionist course."
The next president will also need to face the emergence of serious rivals to U.S. power, particularly China, Russia, and ultimately India and the European Union.
Pickering's talk, "The Role of the United States in the World: an Agenda for the Next President," was the Second Annual Caroline and Ambassador Charles Adair Memorial Lecture, presented this year at AU through the work of Christian Maisch, professor of foreign policy, Washington Semester, and sponsored by Washington Semester, the School of International Service, and the American Foreign Service Association.