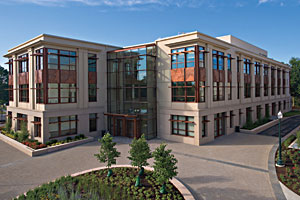 They've long worked for justice and peace. They've always embraced diversity and cultivated an intellectual curiosity that has taken them around the globe. They've continually strived for a better world.
And now, the School of International Service community has the one thing that's eluded them for decades: space. With the opening of SIS's 70,000-square-foot green gem in May, faculty, students, and staff finally have room to collaborate, explore, and dream.
The building, which will be dedicated on September 23, reflects both how far SIS has come and how much it has remained the same. From the small details—the terrazzo floors crafted from recycled materials—to such striking elements as the crystalline windows that flood the space with natural light and fresh air, the building is the physical manifestation of the SIS founding commitment: to ecological stewardship, to transparency and social justice, and to community building.
"A building should be a living thing, and if anyone says, 'the work is done,' that would be disappointing," says SIS Dean Louis Goodman. "We're always going to look for interesting, innovative ways to use the space. It will inspire students to engage the great issues of our time."