Alumni
What It's Like to be an AU Freshman Today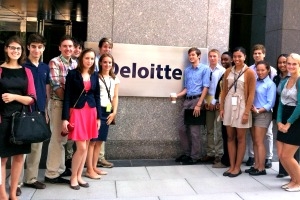 If you visited campus today, you may wonder just how different the experiences of the class of 2017 – entering AU as freshmen this year will be from your own. Most of the 18-year-old members of the class of 2017 were born in 1995, the same year that Yahoo! and eBay were founded. These students feel comfortable selling old toys or used possessions online, and they've never been without the internet.

According to the National Center for Education Statistics (NCES), by 2002, when most of these freshmen were seven years old, 99 percent of public schools had internet access. This class uses the internet to study, finish research projects, find internships, apply for jobs, interact with professors, and communicate with friends – whether they live next door or around the world.

By comparison, parents of these students were most likely in college during the 1980s and early 1990s. At that time, if you needed to make a phone call, you might use a pay phone at the end of the hallway – unless you were lucky enough to have a phone in your room. Even so, you probably made long distance calls on Sundays when rates were cheaper. "I definitely called on Sunday nights. Actually, my mom told me I could only call once or twice a week tops because of the cost of a long distance call," says Jackie Cirillo-Meisenburg, SOC/BA '87.

"There was a payphone in the center hallway. If the phone rang, anyone walking by would answer and they would yell your name down the hall that someone was on the phone for you. Students kept their doors wide open so someone always knew where you were" recalls Linda Lupo-Rodriguez, SOC/BA '87 about her freshman experience in Hughes Hall.

Of course, there was no internet in the '80s. If you needed computer access, you had to go to a computer lab. Papers were completed on a typewriter and college applications were paper. You also couldn't register for classes online, so students in the '80s had to stand in long lines for course registration. "Long lines are an understatement! I'm not sure the old registrar's office even exists anymore," says Jackie. "Once you made it up to the desk, it was another 20 minutes for the registrar to write your name in pen in a gigantic book, logging each course individually."

In contrast to their parents, most students in the class of 2017 brought three to six wireless devices to college, including wireless printers, laptops, iPods, tablets, and cell phones. With cell phones and GPS devices common to many freshmen, most students won't ask for directions. They'll just ask for the address and navigate without printing a map.

According to research done by two University of California economics professors, in 2012 the average college student studied 15 hours per week. This was a huge drop from previous generations. .These same professors' research from 1961 showed that the average student at a four-year college studied 24 hours each week.

Similarly, in a poll of new students, the average AU freshman says s/he is studying 16.8 hours per week. This appears to be due to improvements in technology – computers with delete buttons instead of typewriters and the internet for research instead of the library. "Early on, we only used electric typewriters to write our papers. I remember students who typed well made a business typing other students' papers. In my junior, year my roommate, Jackie, got a computer and she taught me how to use it. The monitor itself took up most of the desktop, but life became a little easier," says Linda.  

Compared to their parents, the class of 2017 is more apt to actively volunteer and is also more likely to state that they're attending college in order to obtain a good job. "I believe that a college education will increase my chances of having a successful career. If I have a successful career, I can share my time and resources with others who are less fortunate," says Caroline Lippie, SPA/BA '17.