Achievements
Professor, Author Shares Insights on U.N. Security Council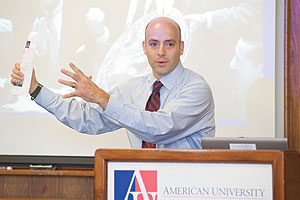 In his new book, Five to Rule Them All, which is rich in details of U.N. resolutions and anecdotes about the personalities behind iconic historic events, School of International Service (SIS) professor David Bosco examines the history and global salience of the United Nations Security Council. The organization charged with maintaining peace and security around the globe, he believes, is due for some updating.
Bosco, a former senior editor of Foreign Policy magazine and a past Fulbright scholar, brought his findings to SIS students and faculty on Oct. 1. The Council, established more than a half-century ago, is still most valuable "as a meeting place for the big powers—a place for compromise," said Bosco. But, it has its limitations.
With additional countries, namely India, Japan, Brazil, and Germany, becoming as powerful as the council's five permanent members, Bosco advocates updating the body to reflect those power shifts. He expressed concern, however, that "if you open a Pandora's box of expansion, the rest of the council won't stand for adding permanent members without adding more rotating members. And a council of 25 to 30 becomes unwieldy."
Bosco's recommended fixes:
Nations be reelected to the council, in order to maintain continuity of leadership, especially in times of crisis.
Require ten affirmative votes (currently nine are needed) to pass a resolution.
Such an action, he argues, "would increase the power of non-permanent members without adding more members," and make the council more equitable and effective.