Journalism
From Newsman to Newsmaker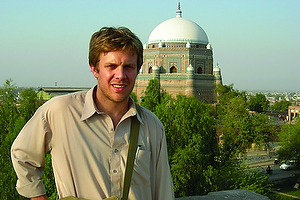 The police came for them on a cold, Tuesday night in January. "We have orders to take you to the airport tonight," the officers said. "You have one hour."
The knock on Nicholas Schmidle's door came less than 48 hours after the Pakistan-based journalist, 29, published an article in the New York Times Magazine, detailing the activities of a new generation of Taliban. Suddenly, Schmidle, SIS/MA '05—who'd spent two years venturing to some of the country's most dangerous outposts, interviewing militants and jihadis—had gone from covering the news to making headlines himself.
A call to an influential friend bought Schmidle and his wife, Rikki, a few days to sell their belongings, give away the cat Rikki had adopted after arriving in Islamabad in spring 2006, and bid farewell to their Pakistani friends, who had become like family.
With heavy hearts, the Schmidles boarded a plane Friday morning bound for Washington. As Pakistan's snow-capped mountains faded into the distance, Schmidle exhaled, a sense of relief finally washing over him.
Despite Pakistan's reputation as being hostile to Americans in general and journalists in particular, Schmidle says he never feared for his safety—until he was handed the deportation notice that rainy January evening in Islamabad.
"Those last two days were certainly the scariest time because I realized that we were, in fact, living in Pakistan illegally—and what do you do with illegal aliens? I knew I would be back, but at that moment, I was relieved to have gotten out safely," he recalls.
A working honeymoon
The Schmidles spoke at SIS in February.
When Schmidle landed a fellowship from the Institute of Current World Affairs in early 2006, his only reservation was that "it sounded too good to be true."
"They said, 'your only obligation is to write a newsletter every month, and we're going to pick up the tab.' I kept waiting for the catch," he laughs.
While Schmidle, who'd always aspired to be a foreign correspondent, was immediately sold on the opportunity, his new wife, Rikki, needed a bit more convincing. "We had been married just three months; I convinced her that two years in Pakistan would be like a honeymoon that just wouldn't stop," he wrote in the Washington Post.
So, on Valentine's Day 2006, Schmidle shipped off for Pakistan; two months later, Rikki, a nutritionist, followed.
Though it took time to adjust to their new surroundings, the newlyweds soon embraced Pakistani customs and culture, and began building a life there. They both learned to speak Urdu and, after several months, Schmidle no longer needed a translator.
"The mainstream media paints Pakistan as a very scary place, but, in fact, people in that part of the world are incredibly hospitable," he says. "I kind of sought out the more negative elements, but my wife, for the most part, led a perfectly normal life."
With Schmidle on the road half of the time, Rikki began painting. She also took a job as a dietician and enrolled at the International Islamic University, becoming the school's first non-Muslim American student.
"She really took the place by storm," recalls Schmidle. "At first, she said, 'Why are you taking me to this godforsaken place?' But in the end, she didn't want to leave."
Beyond deadlines
While Rikki was throwing herself into work and her studies, Schmidle was traversing the country, penning pieces on the intersection of culture, religion, and politics for Slate, Mother Jones, the New Republic, and the Washington Post. Without the pressure of deadlines, Schmidle boasted an autonomy that most investigative reporters would envy.
"I was able to do some digging," he says. "I kept coming back to these areas along the border. The great thing about Pakistan is that everyone has an opinion."
Intrigued by regions and themes overlooked by mainstream media, Schmidle worked with local journalists, who helped arrange interviews with people like Taliban cleric Maulana Fazlullah. In October 2007, he traveled to Fazlullah's compound in the Swat Valley; the trip became the focus of the Times article that led to the couple's expulsion from Pakistan three months later.
"One day, there were hundreds of Taliban roaming around with rocket-propelled grenade (RPG) launchers. It was clear we were at their mercy, relying on their hospitality," recalls Schmidle.
"After prayers, they marched people onto a platform and lashed them. It was a frightening scene; I thought, 'holy mackerel, the Taliban are running the show here.' That was a bit unnerving," he continues.
During his time in-country, Schmidle also struck up an unlikely friendship with the late Abdul Rashid Ghazi, a pro-Taliban cleric in charge of the "Red Mosque" in Islamabad. The two would chat for hours over tea, discussing everything from the Islamic revolution to English literature. Ghazi also passed along his connections, scribbling names and numbers on scraps of paper before Schmidle headed out of town for a story.
"I would say, 'I'm going to this city tomorrow. Do you know anyone there?' It was kind of like a golden ticket," recalls Schmidle. "That was the benefit of the fellowship: I was in no rush. I had the time to cultivate relationships and build trust with these people."
Street credentials
Though Schmidle relished not having an editor breathing down his back, there was a downside to working as a fellow rather than as an affiliated journalist.
"When you don't work for a major media outlet, there's always a suspicion that you're the next 007," he explains. "You could be there for 30 years, and the more you adopt the local customs and clothing, the more people are convinced you're carrying on a charade. "I'm not sure I ever cleared that hurdle." His status as a foreign journalist without any affiliation, along with his reporting in the Swat Valley, is what finally caught the Pakistani government's attention.
"I don't think it ever made sense to them that a foreigner would have two years of funding for himself and his wife," says Schmidle, who discovered his cell phone had been tapped in the weeks before his deportation. "I think that sense must have been there all along."
Now back in Washington as a fellow at the New America Foundation, Schmidle is working on a book chronicling his experiences in Pakistan, which he says were invaluable, personally and professionally. "Street credibility is everything in the field of international correspondence. As a journalist in Pakistan, you get stories that you wouldn't if you were sitting at a desk in Washington," he says.
"All of a sudden, people are listening to me," continues Schmidle, who expects to be back in Pakistan by August. "It's very empowering—and it's something I want to sustain."
And while Pakistan remains the most unlikely of honeymoon destinations, Schmidle says his experiences there with Rikki strengthened their bond.
"It was such a significant time for my wife and me to be there," he says. "Pakistan is a rocky and unpredictable place to start a marriage. But, despite the fact that it was 120 degrees, that nothing worked, nothing was on time, nothing was easy, there was really something to cherish about our time there."