Television & Film
Gregory Named Moderator of Meet the Press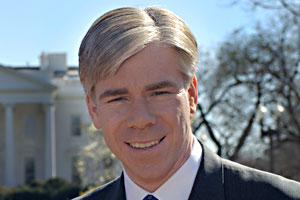 If it's Sunday, it's Meet the Press—and now, that means David Gregory.
The 1992 American University graduate takes the reins of the nation's most influential political talk show this Sunday, becoming only the 10th permanent moderator in the 61-year history of the program. He succeeds the legendary and beloved Tim Russert, who died of a heart attack earlier this year.
During the final five minutes of last Sunday's broadcast, Gregory chatted with temporary moderator Tom Brokaw about his new position.
"This is an incredible honor," Gregory said. "I've thought a lot about what it means to succeed somebody like Tim Russert. I'm not Tim, but along with this great team I can just work real hard to make him proud."
Heading that team is the show's executive producer, Betsy Fischer, who graduated cum laude from AU's School of Public Affairs and earned an MA degree in broadcast journalism from the School of Communication. Brokaw went out of his way to praise her in his farewell remarks on Sunday.
"I hand this assignment off to you with one of the best staffs I've ever worked with, led by Betsy Fischer," Brokaw said to Gregory.
Gregory has been on the fast track to journalism stardom ever since he arrived at AU from his hometown of Los Angeles. Although he majored in international relations, he also worked at the AU television station, reporting and anchoring the news, an experience he calls "formative."
"The interesting thing was I immediately decided not to study journalism," he said in a 2006 American magazine profile. "I had international interests, so I thought it would make more sense to study international affairs. But I was constantly thinking about how to get started in my [broadcasting] career. In fact, I spent too much time doing that. I remember sitting in my dorm room during the day calling people, trying to network."
After graduating, Gregory returned to the southwest to work for a station in Albuquerque, New Mexico.
At the ripe old age of 24, Gregory joined NBC News in 1995, covering the O.J. Simpson trial for the network's affiliates. Three years later he was shifted to Washington, D.C., to cover the Monica Lewinsky scandal, and after chronicling George W. Bush's victorious 2000 presidential campaign, he was named White House correspondent at the age of 29.
Phil Griffin, senior vice president for NBC News in 2006, was struck by Gregory's passion and versatility and championed his rise to the top.
"Whatever David does, whether it's work-wise or his interests in life, he gets totally involved," Griffin said. "He enjoys it. He brings that quality to everything he does. Whether he's at a White House press conference and he's grilling the spokesman or he's doing a cooking segment on the third hour of the Today show, he's just into it and that comes across to the viewer. David puts himself out there, he brings his own curiosity to everything he does. If you're going to be a reporter, you've got to be curious. Many reporters don't want to seem silly or ask the wrong question, but David says, 'Look, I'm just going to go for it.' It's impressive how he approaches his work. He's what you want in a reporter."
And in a moderator. There was much speculation over the course of the past several months in both the political and television worlds about who would take Russert's seat at America's most famous Sunday morning table, but eventually, Gregory got the gig.
"One of the strengths of the program is to be able to bring some of the very difficult issues of our time to people in a way they can understand it, they can digest it, and they can make it part of their own decision making and opinion making in their lives," he said on Sunday. "I think the country is in such a difficult place right now. People are so engaged. This program, uniquely, can provide insights and answers and ask tough questions to explore the nature of leadership in Washington and the country and the world, and to hold leaders accountable. Tim always said to me, be respectful, but ask the tough questions and think of the smart follow-up, and hold them accountable, and if you're fair you'll be just fine in the end. That's what this program represents to me."