Alumni
Kyle Taylor's Quest a Success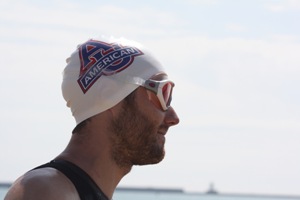 In the end, it wasn't about the channel, it was about the kid.
For 10 weeks Kyle Taylor '06 trained almost fanatically with his sights set on swimming across the English Channel. What began as a fund-raiser for his four-year-old friend, Harvey Parry, had evolved into a personal quest.

Taylor's window for the 22-mile channel crossing was July 4 to 7. His energy drinks were mixed, his mom was in town to root him on, and he was generally psyched, so when wind made an attempt on the fifth impossible and appeared likely to do the same the next two days, Taylor shifted course.
"My mom and support crew could only be here through the 14th," said Taylor, whose next window would have been at the end of July. "I wanted to do something big while they were here – for them, for me, and for the four-year-old boy who lost both his legs to meningitis. Somewhere along the way it stopped being about getting to France for me and started being about sharing this journey with everyone in my life, beating the cold, and doing all I could to help Harvey walk again."
So Taylor decided to dive into what had been his arch nemesis the past few months – frigid Dover Harbour.
For nine hours Taylor swam, back and forth, and back again. When he emerged from the 60-degree water, he had logged 25 miles – three more than the width of the channel.
"It was so amazing to do that surrounded by family and friends," said Taylor, who swam competitively at AU for just one year. "As all the regulars say, this whole experience can be life-changing and it has been for me as well. I've learned so much about myself and about my motivations. 
"I started to realize, in many ways, how selfish this whole thing had become – everyone waiting around for me to swim, spending nearly $3,000 on a pilot boat, sucking the time and energy of everyone around me just so I could say 'I swam the channel.'" he said. "This was supposed to be about challenging myself to do something physically incredible and reignite what swimming means to me while raising money for Harvey. My decision became clearer and clearer. So, seeing no real opportunity to swim to France, I decided to face my personal challenge and donate the $3,000 I would have spent to cross the channel directly to Harvey."
Coupled with the roughly $10,000 Taylor raised in pledges, Parry is a whole lot closer to affording the new titanium prosthetic legs he so badly needs. 
Read about Taylor's friendship with Harvey and his preparation to swim the channel.