Campus News
Cherry Trees, Long Ties Draw Korean Ambassador to SIS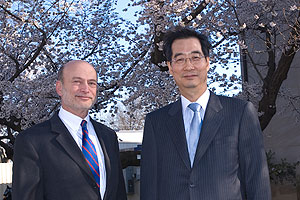 South Korea's new ambassador arrived in Washington, D.C., just in time for cherry blossom season, and that meant a visit to AU. Traditionally, the South Korean ambassador visits the School of International Service each year during the peak bloom of the trees given to AU in 1943 by Syngman Rhee. Rhee would become the first president of South Korea. The visit is also a reaffirmation of the university's strong links with South Korea.
"There are many distinguished alumni of AU in Korea," said Han Duk-Soo, the former prime minister and Harvard-educated economist who took the helm at the embassy two weeks ago. "I have many friends who graduated from AU, but I didn't expect that AU had such a longstanding relationship with Korea through trees."
The three World War II-era cherry trees will be joined by a grove of younger ones at the new SIS building, where there are plans for a Korean garden. Cuttings have been taken and rooted in South Korea, though planting is probably two years away, when the saplings are large enough, said AU landscape architect Michael Mastrota.