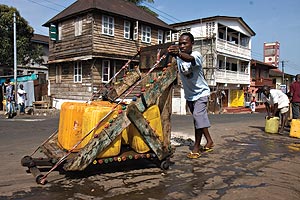 Africa, even in the last decade, was not a place where many students went to study abroad or intern. A tough place to research, it was always a bit in the scholarly shadows.
That's no longer the case, particularly at AU, where a growing number of courses and faculty members focus on aspects of the complex continent.
A. Carl LeVan, who studies Africa and teaches at the School of International Service, thinks it's no accident that the boom in interest coincides with a wealth of new data. "We have information about Africa, and access to people and politicians and histories and data, that were inaccessible even 10 years ago," he says. "We're better equipped at a scholarly level to answer the questions we've always been asking."
Faculty have done research all over the continent, including Malawi, Senegal, Nigeria, Sierra Leone, Liberia, Guinea, Ghana, Namibia, and South Africa. The Council on African Studies, chaired by LeVan, has identified at least 20 faculty members across AU with research interests in Africa.
There are alternative breaks to Africa, study abroad programs, and an increasing number of internships. LeVan's undergraduate course, Civilizations of Africa, collaborated across the miles with a class at ABTI-American University of Nigeria, with students reading the same assignments, posting homework on a joint blog, and engaging in lively debates.

At a recent organizing meeting on Africa studies, some 50 students packed the room. Many had traveled or worked in Africa already; others planned to go. "That's momentum," says LeVan. "That's excitement. That's energy."
The people in the next pages are contributing to the momentum as scholars, students, and alumni. They know what it is to work, travel and do research in the vast, diverse and changing continent. — Sally Acharya