International
International Work, Travel on the Rise at SIS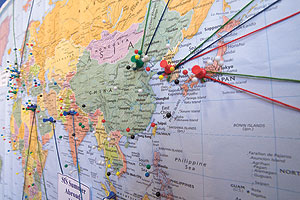 Zambia, Uruguay, and Urumqi, China, are just a few of the places on the map that filled up in November with colored pins, each of them representing School of International Service students and faculty who have studied, worked, and conducted research in those faraway destinations. 
The map was a record of past travels, but also an indication of the future. 
Only two years ago, some 4 percent of SIS graduate students studied abroad each academic year. Now the annual number is around 15 percent, said Rebecca Bellinger, director of international programs at SIS.

It's a trend that promises to increase in the future as SIS focuses on fulfilling students' growing interest in interning and learning overseas as they prepare for careers in international service.

Internships are what students seek out the most, Bellinger said. SIS is meeting the needs by developing an increasing number of internships, some of which are paired with study programs. A typical summer program may now involve a seminar paired with an internship. For instance, a program in South Africa includes a 15-day intensive seminar, which includes site visits, followed by internships with host organizations.

Internships can also be developed without associated courses. "We're moving toward working with alumni abroad to find placements," Bellinger said.
While many students seek to work in regions of the world connected with their interests, others may end up changing their focus precisely because of an overseas experience. "It really has a sustained impact," says Heidi Ashton Yoon, program manager of international programs.
Nearly a third of SIS graduate students now go overseas at some point during their graduate studies for internships or study abroad. For many, time abroad is becoming an integral part of their studies.