Alumni
Creating a Global Small Business Social Network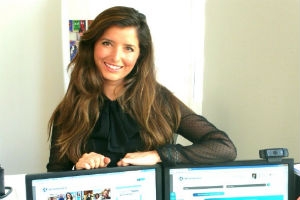 Carlota Pico, SIS-SOC/BA '08, is co-founder of BeConnections, the first free social network for companies, described by Spanish newspaper EL MUNDO as the "Facebook for businesses." BeConnections is designed to connect small and medium enterprises (SMEs) internationally, and to give them a common platform to keep in touch and promote their activities to a global audience. The idea for this platform was born out of the years Carlota spent working abroad and connecting with SMEs all over the world - and witnessing the challenges they face when looking to enter new markets.
Before launching her company, Carlota was an investment reporter working in Africa, the Middle East, and Central Asia. Through her interviews and field research, she strived to positively represent these regions to international investors looking for opportunities in emerging markets. Her experiences as a reporter brought her into contact with a variety of small businesses and local entrepreneurs.
Following her time as a reporter, she backpacked across the globe and eventually settled in Madrid, Spain where she co-founded BeConnections. "AU helped me to understand other cultures from perspectives that are often not exposed on the news," she says. "In turn, this triggered a curiosity that has led me to travel the world and to make new connections in places that I would have never thought of doing business before."
The mission of BeConnections is to help companies keep their business networks organized on a single platform. It is the first free, global business to business social network without size, region, or industry limits, which allows companies to connect with each other according to their interests and maintain that contact over time. Looking forward, she hopes that BeConnections can provide members with a way to explore non-traditional markets and create new partnerships that might otherwise have been difficult to maintain.
BeConnections is currently focused on creating synergies specifically between emerging and Western markets. Carlota was recently invited by the government of Algeria to give a presentation about BeConnections at their international trade fair. Her next stops include Dubai and then Dublin, where BeConnections has been selected to be part of The Summit's Alpha Program, Europe's largest technology conference.
"My advice to AU students today is [to] learn from the university's rich diversity of people, personalities, and perspectives," she says. "Embrace globalization both on campus and beyond."