In the Community
AU Neighbors Join The Classroom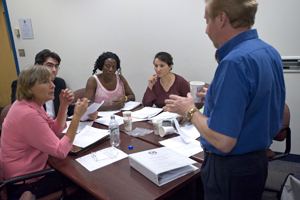 Fostering positive relations with our neighbors is a priority for American University and we welcome the opportunity to be a valuable and valued community partner.
We invite neighbors to attend lectures on campus, enjoy musical performances and openings at the Katzen Arts Center, show their support as Friends of the Library, take advantage of special rates at the university fitness center and pool, and make use of campus amenities such as our bookstore, retail food outlets, and ATM machines. Now we offer them the chance to sit side by side with our students and alumni as a part of the new Community Audit Program.
Modeled after the Alumni Audit Program, AU's Community Audit Program is coordinated by the Office of Alumni Relations in conjunction with the Office of Community Relations. The new program offers adults ages 60 and older, who live in the 20016 zip code, the opportunity to attend courses on a noncredit basis for a modest charge. Auditors will listen to the same lectures and work from the same texts as enrolled students. Many of our neighbors consider the program a community service since it offers people the chance to be part of the university environment through its extensive list of courses, sure to suit a range of interests and schedules.
For just $100, ($75 of which serves as a donation to the Alumni Association Scholarship Fund), our neighbors are provided with a rewarding way to enhance professional skills, take class with popular professors, or delve into a new hobby and pursue a commitment to lifelong learning. The Alumni Association Scholarship is awarded every other year to an AU freshman legacy student.

The Office of Alumni Relations has streamlined the registration process for auditing courses to improve the user experience, and with the help of the Office of Community Relations has forged a new relationship to assist our neighbors. With the idea originating from a suggestion at an annual Community Town Hall meeting with President Kerwin, Andrew Huff, director of community relations, is pleased with the enthusiasm our neighbors are showing toward the new initiative. "I think the launch of the community audit program is another great benefit for those that live close to the university. Our neighbors have some pretty interesting experiences and life stories, so I believe our students and professors will learn just as much from the neighbors as our neighbors will learn from the class".

For more information about the Alumni Association Scholarship, please contact Tara Lang at tlang@american.edu or 202-885-5921. To learn more about the Community Audit Program, please contact Andrew Huff at ahuff@american.edu or 202-885-2167.