Journalism
Meet Gregory and Fischer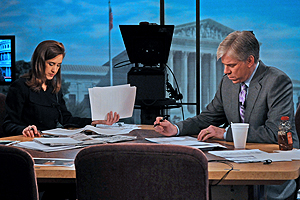 Less than two hours before the nation's longest-running and most influential television show hits the air, Betsy Fischer, SPA/BA '92, SOC/MA '96, peels the plastic wrap off one of the colorful trays of cheese, bagels and lox, and fruit sitting on the greenroom coffee table, and pops a cracker into her mouth. Fresh from his make-up chair, David Gregory, SIS/BA '92, joins her moments later for a little morning nosh.
"One of the big roles we play is tasting all the food," he jokes.
The moderator and his executive producer, friends since their earliest days as undergraduates at American University, are at ease, their chemistry palpable. Soon the guests, two senators, two congressmen, and a Washington Post reporter, will arrive, and at 9 a.m. sharp the pair will team up once again to produce a broadcast that will keep 4 million sets of eyes glued to their television sets.
It's Sunday, and this is Meet the Press.
In the darkness of a cold winter morning, long before anyone meets the press, Fischer arrives at NBC News studios on Nebraska Avenue to prepare for the February 8 show. Shortly after Gregory gets in around 7, the two sit on set working through the show's outline and checking the graphics and television clips they plan to use.
"We know that we'll ask Question A to get to Question B which will get us to Answer C," Fischer says. "There's a design that we've set up when we're working out the outline. Throughout the week we're reading about everything the guest has said, we can kind of anticipate what kind of answers we're going to get, so we know what the logical follow-ups are to each of those things."
After the dry run they make their way to the greenroom to greet the guests: Senator John Ensign and Representative Mike Pence, Republicans; and Senator Claire McCaskill and Representative Barney Frank, Democrats. McCaskill is the first politician, all accompanied by staffers and some by family members, to arrive.
"When you get an e-mail from Betsy, as a press person, you get very excited," says Adrianne Marsh, McCaskill's communications director.
Today is Ensign's first Meet the Press appearance.
"It's certainly got a great Q-factor," the Nevadan says.
Shortly before the live broadcast begins, Fischer shifts to the control room, where she monitors all facets of the show as the hour unfolds. Things are progressing smoothly when talk turns to Tom Daschle's failure to pay taxes for a limo and driver.
"The last chauffeured Town Car I drove in, David, was this morning when you sent one to pick me up," Frank says.
Fischer's ears perk up and she quickly speaks into a microphone connected directly to Gregory's ear piece.
"That's because we wanted to make sure he got here!" she says.
"We wanted to make sure you got here," Gregory says seconds later, eliciting laughter from all the guests.
"If she gets in my ear it's because she's got a good suggestion to make, and I take it," Gregory says. "We're really in sync, so she's either saying you should move on to this other thing, or here's a smart point to make. One of the real challenges is—are you present in every moment, are you listening to everything not just thinking about where you want to go. I do think I can do my best if I'm really in that moment, and she's in that moment as well."
It's another example of the seamless synergy that exists between these former classmates, current coworkers, and old friends.
NBC News' Northwest Washington studios sit less than a mile from the Massachusetts Avenue gate of AU's campus, where Fischer and Gregory arrived as freshmen in 1988. While each had grandiose hopes, neither could have foreseen that two decades later they'd be among America's media elite, running the nation's preeminent political news show.
"Never in my wildest dreams would I have imagined I would be in the news business," says Fischer, who majored in justice and minored in politics. Law school back home in Louisiana was her post-AU plan when she landed an internship with Meet the Press in fall 1991.
"I went to the Career Center and I flipped through a big black binder of various internships," she says. "From when I was eligible to do an internship I had done them every year. I did one on the Hill with [former representative] Bob Livingston, and one at a law firm, so I got a good taste of things. I thought [Meet the Press] sounded interesting, and I knew it was right down the street, so I said this is great, I can sleep late and just walk to my internship."
Today Fischer's job responsibilities, paycheck, and mode of transportation to work have changed (it's a bit too long of a stroll from her McLean, Virginia, home), but her destination has not. After staying on for a second internship, she took a position as a researcher for the 1992 elections, working under new Meet the Press moderator Tim Russert.
"People talk about getting bitten by the journalism bug, I kind of got bit by the Tim Russert bug," says Fischer, who became the show's executive producer in 2002. "He had that sense of enthusiasm about him. He loved covering politics, and it hooks you in. Tim never ever sat down in that chair without being 100 percent prepared, and David is the same way."

While Fischer was working her way up at Meet the Press, Gregory was establishing his journalism credentials at a lightening fast pace. A Los Angeles native, he landed an internship after his freshman year at KGUN-TV in Tucson, Arizona, which hired him to file reports from Washington the next year. After graduating with a degree in international relations, he joined NBC News in 1995 at the ripe age of 24, covering the O. J. Simpson trial for the network's affiliates. Three years later he was shifted to Washington to cover the Monica Lewinsky scandal, and after chronicling George W. Bush's victorious 2000 presidential campaign, he became White House correspondent at the age of 29.
On December 7, 2008, six months after Russert's sudden death, NBC News president Steve Capus chose Gregory as the 10th permanent moderator of Meet the Press.
"We lost a legend this summer, and today we hand the program over to someone who has a true appreciation and respect for the Meet the Press legacy, and a keen sense of what it needs to be in the future," Capus said. "David and Betsy are first-rate, and I'm thrilled to have them in their roles at a key time in the program's, and the country's, history."
Supremely confident and unquestionably ambitious, Gregory nevertheless understands the magnitude of stepping into Russert's buffalo-sized shadow. In his mind, he's still "in a time of testing."
"There's no getting around it, this was not a natural transition," he says. "No one expected me to be in this position. There were intangibles that Tim had; he had certain gifts that I can't try to emulate. I've got to be my own guy. What I strive to do is say there are standards, and there is a legacy to live up to. I will do it my own way, but it's an ideal."
One he shares with Fischer.
"That ethic of focusing and working hard and always being on top of things, that doesn't end at any point," she says.
So far the transition has seemed to resonate with the public and critics. Since Gregory took over, Meet the Press has remained in first place among Sunday-morning news shows, even increasing its audience by 5 percent from a year ago. It leads its closest competitor, CBS's Face the Nation, by more than 1 million viewers.
"From where I sit with 25 years of writing about Sunday morning public affairs television, I think Gregory and the new Meet the Press got off to a very promising start," Baltimore Sun television critic David Zurawik wrote in his December 14 blog. "Most important, I think Gregory and executive producer Betsy Fischer are wisely and somewhat seamlessly shaping this venerable franchise for the new media future—without losing any sense of its glorious past."
Midway through this Sunday's first segment on the economy, debate among the panelists has disintegrated into partisan bickering.

"Hold on, we're not going to resolve this today," Gregory breaks in, reestablishing control of the conversation. "What I'd like to do is provide some daylight about this plan with regard to getting [bank] lending going."

Fischer, 39, and Gregory, 38, began discussing today's topic and potential guests just minutes after last Sunday's sign-off.
"It's kind of a never-ending cycle, because the competitive nature of the show is you want to be on top of things," Fischer says. "We want to get the biggest guests on the biggest topics every week. We don't want to rehash last week's news. We want to take a story and move it forward. We want to make news."
After unwinding with their families on Sunday afternoon, they try—with mixed results—to stay away from the office until Wednesday. By then the guests usually are booked, and the staff, including associate producer Chris Donovan, SPA/BA '97, are pouring over every archived newspaper story and TV broadcast they can fix their eyes on.

By Friday the preparation narrows, and Gregory and Fischer hunker down, often late into the night on Saturday, crafting an outline for the next day's show.

"We have [video] elements that we choose, and a direction, but never really a formal list of questions," Gregory says. "When you're in a longer interview you can have a roadmap, but you want to be fluid enough to be responsive to what they say. Ultimately, you're having a conversation. What distinguishes Meet the Press is that it is a pointed conversation."
One that works perfectly today. The first half hour was a lively yet thoughtful debate that touched on all aspects of the economic crisis. After the second segment, in which Gregory discusses Iraq and Afghanistan with Thomas Ricks of the Washington Post, he delivers the show's signature tagline, and another Sunday is in the books.

Fischer once again joins Gregory at the table on set to deconstruct the previous hour and begin early preparations for next week's show. One of their standing goals has been achieved: Ensign's declaration that no bill would be better than the Senate's stimulus bill is the lead story Monday morning on the public radio show the Takeaway. As it has for sixty-plus years, Meet the Press has made news.
But there's precious little time for revelry.
"We joke, whew, the show's over," Fischer says. "But you know what? There's another show coming. It's a 24/7 thing on your shoulder, and it never gets off."

Already her mind is racing with possible guests for seven days from now.
"We're hoping to get someone, so I'll probably call his press person tomorrow," she says. "Actually, I should call her this afternoon."