Alumni
Fortifying US Security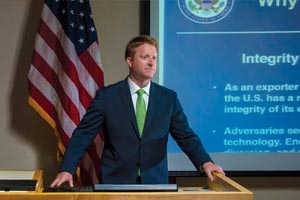 Luke Heselden, SIS/MA '13, works behind the scenes to keep citizens safe.
As a policy analyst at the Directorate of Defense Trade Controls at the US Department of State, he prevents sensitive technology from getting into the wrong hands and advises policy makers to advance US interests at home and abroad.
Advancing National Security Abroad
A United States Foreign Policy and National Security graduate, Luke doesn't confront global threats, he prevents them.
He monitors US defense articles sold abroad to ensure they are being used properly, and by the proper entities.
"Bad things could happen if these defense technologies get into the wrong hands. Our mission is to ensure that does not take place."
He's the first line of defense in ensuring that sensitive US defense technology isn't falling into the hands of those who would abuse it. If he finds a discrepancy in a license, or notices that a buyer could be associated with a global conflict, he raises a red flag and works with law enforcement to determine the best course of action.
Why SIS?
Luke always held an interest in international affairs. As a child growing up in the DC area, he was struck by how our nation's foreign policy was formed, but it was during his undergraduate years that he decided to make a career out of it.
He wanted a graduate degree that would differentiate him from his peers. He chose AU because of the faculty – not only smart academics, but also seasoned practitioners – the critical importance of being in DC, and the program's flexible class schedule.
"My time at SIS revealed how US foreign policy is conducted in the real-world. The SIS faculty did a great job of making the classroom environment relevant to my internship and work experience in government and international affairs think-tanks."
Protection Through Policy
To Luke, the most rewarding part of his job is using his defense trade expertise to educate decision makers, the same men and women shaping our foreign policy and national security.
"To be in the room when important decisions are made and to help policy makers make the best decision possible for the United States, that's what every person in my position hopes to do."
But most of all, Luke is proud of the small part he plays in keeping America safe.
 
"It's very rewarding to be part of an organization that helps protect Americans and innocent people around the world from the consequences of having defense technologies fall into the wrong hands."
---
Learn more about our graduate program in United States Foreign Policy and National Security, and request information.