Alumni
Growing Hope in Malawi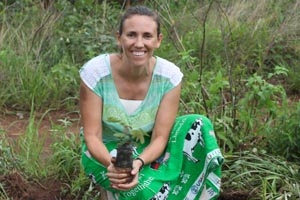 Orange sweet potatoes don't need a lot of fertilizer to grow. They can flourish year-round in degraded soils, and are extremely vitamin rich.
All of this makes sweet potatoes the perfect crop for the farmers of Lilongwe, Malawi.
Natural Resources and Sustainable Development graduate Lynn Schneider, MA '10, is introducing this crop to the Malawian fields through USAID's Feed the Future initiative.
A Need for Diversification
Lynn oversees the program in Malawi as the deputy director of the Sustainable Economic Growth Office at USAID/Malawi. Feed the Future is a global agriculture and food security initiative, launched in 2009.
"Malawi is one of poorest countries in the world and very densely populated," Lynn says. "Eighty percent of its economy is dependent on agriculture, but not the sprawling farmland like in the US. Instead, each household has a small land holding that's, on average, less than two acres."
Due to overpopulation, Malawian farmers also face depleted soils, deforestation, and climate change. This combination of factors has led to a massive malnutrition problem.
"The introduction of sweet potatoes is part of an effort to diversify crops in Malawi, making the country as a whole more resilient to climate change and other shocks."
Why SIS?
It was during her undergraduate years, after a semester in Bolivia, that Lynn concluded she wanted a career in international development.
"I wanted to work toward poverty alleviation internationally, but didn't know what that looked like. I had no idea how to get from A to Z."
She knew she had to go back to graduate school.
"The NRSD degree was attractive because it was at the nexus of environment and agriculture. After my class on international food security at Costa Rica's University for Peace, I knew the exact area I wanted to work in. AU opened my eyes to opportunities in federal government and associated organizations - something I'd never have considered."
Improving Nutrition, Incomes and Outcomes
Through the introduction of sweet potatoes, Lynn has helped farming families become healthier and more economically sustainable.
"Pregnant mothers and children under two are the most important groups for addressing malnutrition. We must improve nutrition within that window - and sweet potatoes are ideal as they help reduce vitamin A deficiency and improve gut health."
Lynn's team is also teaching households how to preserve and prepare the crop. This includes saving part of their harvest for immediate consumption, storing some for the future, and selling some for income.
"By teaching farmers how to grow, store, prepare and sell these high-yield vegetables, we're improving nutrition and resilience for generations to come."
---
Learn more about our graduate program in Natural Resources and Sustainable Development, and request information.