International
How we spent our summer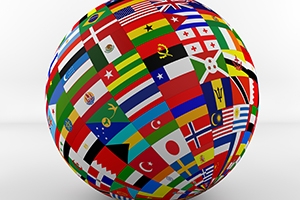 From global travel to teaching and research, we know that School of International Service faculty and students do incredible things. Their penchant for intellectual growth and service embodies the SIS mission, no matter the season. We checked in with a few professors and students to see how they spent their time away from campus this summer.
Jump to:
Adam Auerbach
Susanna Campbell
Allen Cardenas, SIS/BA '17
Lauren Carruth
Sichao Ni, SIS/MA '17
Guy Ziv

Adam Auerbach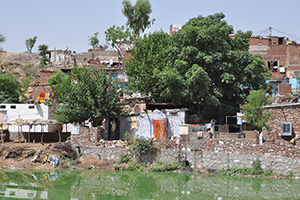 Adam Auerbach, assistant professor, conducted research in India this summer
"There are an estimated 65 million people living in urban slums in India—a number that exceeds the entire population of countries like Argentina, Spain, and South Africa. Important political figures in these poor urban settlements are slum leaders, who spearhead efforts to resist eviction and demand basic services like water, sanitation, electricity, drainage, and paved roads. Despite their pervasiveness in urban slums, and the important role they play in local political economies, we know little about the lives of slum leaders and the factors that structure their responsiveness to the demands of local residents.
My colleague Tariq Thachil, an associate professor at Vanderbilt, and I traveled to India this summer to study informal leadership and distributive politics in slums. We surveyed 629 slum leaders across 110 settlements in the north Indian cities of Jaipur, Rajasthan, and Bhopal, Madhya Pradesh. This represents one of the first surveys of local political intermediaries in the developing world, and to our knowledge, the first large and representative survey of informal slum leaders ever conducted. The survey builds on the fieldwork we conducted during the summer of 2015, which involved a survey of 2,199 residents across the same 110 settlements. The data from the resident and leader surveys, combined with the interviews and ethnographic fieldwork we conducted in the two case cities, will yield important insights into how poor urban communities in India struggle to improve their material conditions."
Susanna Campbell
Susanna Campbell, assistant professor, conducted research on international aid
"A thin line seems to divide war from post-war. Since I left Juba, South Sudan, earlier this year, the capital of the world's newest country has tumbled yet again into violence and open combat. I was in Juba doing research on international aid to contexts best classified as 'neither war nor peace.' These contexts pose big challenges for the international aid architecture, which is structured to support well-functioning state bureaucracies, not build a new state bureaucracy from scratch. My research earlier this year in Khartoum, Sudan, and Kathmandu, Nepal, revealed similar challenges, although none so great as those faced in South Sudan. Combined with research that I conducted in the Kinshasa and Goma in the Democratic Republic of Congo (DRC) last year, this fieldwork is part of a large multi-method research project that I led: 'Aiding Peace? Donor Behavior in Conflict-Affected Countries.' In spite of the billions of dollars given to conflict-affected countries, we still do not know if aid to countries such as South Sudan, Sudan, Nepal, and the DRC helps or hinders peace. The forthcoming book and articles from this project will shed light on this crucial question."
Allen Cardenas, SIS/BA '17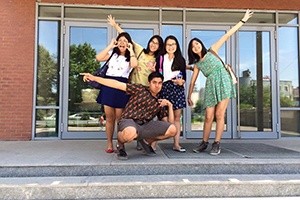 Allen Cardenas, SIS/BA '17, taught English in Mongolia
"For the past two summers I have volunteered with Learning Enterprises, an international nonprofit started by an AU student in 1992, which facilitates 11 programs in 13 countries. In January 2015, I was hired as a volunteer English teacher and traveled to Ulaanbaatar, Mongolia, in June of that year. I spent four weeks teaching two classes and living with a host family. I primarily taught English, TOEFL, SAT prep, and gave guidance on the college application process. Throughout the process, I learned a lot about Mongolian culture and made amazing connections with my students and host family. In September 2015, I was rehired—this time as the program director—and was given the opportunity to plan the entire summer program and hire incredible teachers from around the world. We spent five weeks this past summer teaching at two schools and engaging in cultural exchanges. I stayed with the same host family from the previous year where I had a mom, dad, and four host brothers. They really made me like another one of their sons. One of my favorite parts of Mongolian culture is how hospitable people are toward guests and newcomers. I know for sure I will go back and see all my friends and family again." 
Lauren Carruth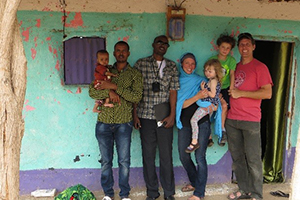 Lauren Carruth, assistant professor, conducted research in Ethiopia this summer
"I traveled to eastern Ethiopia this summer to do a survey that assessed the risk of zoonotic diseases—diseases that go from animals to humans—among pastoralists. I trained a team there to begin to do the survey and to do qualitative interviews, with the end goal of investigating bovine tuberculosis and diabetes among Somalis in Ethiopia, and improve food safety, food security, and social justice for pastoralists living at the margins of Ethiopian society. I also conducted ethnographic research on food for work, which is when people who experience humanitarian emergencies or live in extreme poverty receive extra food rations in exchange for work on infrastructure products. It was a busy summer, but I was able to take my kids with me for the first time. They were able to meet the research team and travel, and that was awesome. I've known the research team for years and it was important and special for us to be together with our families there, while continuing to further this research." 
Sichao Ni, SIS/MA '17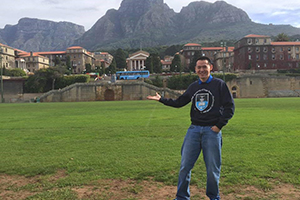 Sichao Ni, SIS/MA '17, participated in the Democracy and Development in South Africa study abroad program
"This summer, I joined a group of ten SIS students to take a study abroad course in Cape Town, South Africa. The topic of interest for this study abroad was Democracy and Development in South Africa. As a part of this program, we were exchange students at the University of Cape Town and interacted with world-class scholars and practitioners on the topics of political history, race relations, HIV/AIDS, economic history, poverty, inequality, education, land reform, foreign policy, and NGOs. I think the strength of the study abroad program is making us aware of the connection between academics and the real world. Through many field visits, we not only listened to how things should be in the classroom, but also saw the real positive and negative impacts of a policy firsthand in issues such as HIV/AIDS control, the lacking of effective service delivery and the dire situation of high unemployment in South Africa. The key takeaway is that these pieces of the puzzle are all connected one way or the other. A change in one variable changes the chemistry of the entire chain. The experience was enriching and broadened my horizon of the world we live in. Additionally, my research of South Africa foreign policy shed some light on the country's role in the African continent and on the world stage. South Africa has great potential to grow and become an influential regional power only if its leaders make the most of its opportunities for their country and not themselves."
Guy Ziv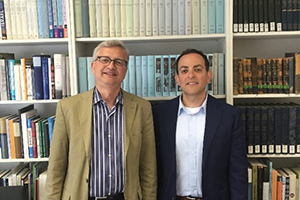 Guy Ziv, assistant professor, conducted research in Israel this summer
"As a recipient of the SIS Dean's Summer Research Award, I traveled to Israel this summer to conduct a 10-day field research trip that focused on discrepancies between the Israeli security establishment and the country's politicians. Within my project, entitled 'The Security Establishment vs. The Political Establishment: Conflicting Messages on a Two-State Solution,' I interviewed eight high-ranking former Israeli Defense Forces (IDF) officials. One of my findings from these interviews is that a clear majority of former IDF generals and Israeli intelligence chiefs support a two-state solution to the Israeli-Palestinian conflict as a top national security priority. I also learned that the views of the security establishment are not resonating as strongly as the positions expressed by government ministers, given the populist wave that has engulfed Israel (as well as other countries in recent years). Concluding Phase I of my research, I am now incorporating my findings into an article utilizing mixed methods as well as a book chapter in an edited volume, entitled Reinventing Israel, to be published by Wayne State University Press. Over the summer, I presented different aspects of my research at two different academic conferences: the Association for Israel Studies annual conference in Jerusalem and the CEEISA-ISA conference in Ljublijana."