Alumni
Defending our Right to Clean Water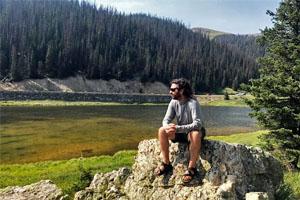 If the oil and gas industry went unregulated, toxic waste could be flooding local wastewater treatment plants in certain parts of the country. As a result, public health and drinking water would be at risk of contamination.
In fact, it was, until Clean Water Action, an environmental advocacy group, and John Noël, Global Environmental Policy (GEP) graduate, helped get the practice banned.
As National Oil and Gas Programs Director at Clean Water Action, Noël is curbing the pollution of extractive industries, both to the earth and our democracy. He protects water resources—and the public's best interests—by researching long-term impacts of natural gas production, improving environmental policies, and exposing what happens when industry isn't properly regulated.
"My goal is to help protect and make sure people understand the devasting impacts the oil and gas industry can have on families, communities, and water resources."
The wastewater issue arose when there were no set disposal standards for fracking wastewater, so companies started shipping their waste to local municipalities, which weren't designed for the highly toxic chemicals that arose from oil and gas operations. Understanding the dangers this posed, Noël, SIS/MA '13, advocated that local plants should not be responsible for such waste, as they didn't have the technology to treat it properly.
When the EPA finally did set standards, they sided with Clean Water Action and Noël. "Now, across the US, oil and gas companies are not allowed to utilize these local wastewater treatment plants and must figure out other ways to manage their waste," Noël says. 
The Dangers of Unchecked Climate Change
Although he always held an interest in the subject, John's passion for environmental issues crystalized in 2012 after Superstorm Sandy damaged his family's home in Ocean City, New Jersey.
"When the storm hit, it was the first time you could point to an event influenced by climate change impacting me personally. Seeing that line up with everything I had been reading, and seeing it play out in real time, was pretty startling."
His interest increased further during his time at the Environmental Protection Agency (EPA). While working in the Office of Water on issues related to hydraulic fracturing and wastewater disposal, he learned of the access and influence the oil and gas industry had over their own regulatory process.
To highlight these issues, and expose the dangers of them, Noël wanted to enter the NGO realm. But before he could fully dedicate himself to the environmental movement, Noël wanted professional training. So, he turned to American University's School of International Service (SIS).
From Passion to Profession
Noël credits the GEP degree for catalyzing his passion and transforming it into professional skills. "The master's program focused my interest in climate change into something manageable and applicable in the policy world," he says.
He chose the program because of its international perspective, strategic DC location, and focus on environmental justice. As opposed to other, similar programs that acted as pipelines to the private sector, GEP focused on careers in the public realm, like NGOs and the Peace Corps.
Lessons extended beyond the classroom, as Noël and his classmates often attended environmental protests together, specifically those related to the Keystone XL Pipeline and climate change. He enjoyed being part of a cohort that wanted to solve hard problems from a well-rounded understanding of how humans interact with the natural world.
What stood out most about his experience were the opportunities the program presented. He was able to travel to China to discuss fracking and air pollution issues at Beijing Normal University, and he visited Cuba to see the country's sustainable agriculture process first-hand.
It was through pursuing his degree that Noël's career path changed from international negotiations to the devasting impacts of extractive energy. "I saw how fossil fuel production drove the long-term climate crisis, destroyed rural water sources, and impacted air, soil, and public health in a way that destabilized family and community cohesion," Noël says.
Combating Contamination
As National Oil and Gas Programs Director at Clean Water Action, John protects drinking water through research, policy, and advocacy.
"A lot of the time, industry innovates at a faster clip than regulation can evolve, so that leaves drinking water vulnerable to contamination," he explains.
Keeping abreast of industry ensures that Clean Water Action's advocacy has maximum impact, so his role involves researching industry trends, production techniques, and the long-term impacts of oil and gas development. It also involves working with the EPA to update and improve environmental protections.
In 2016, Noël helped convince the EPA to revise a five-year, multi-million-dollar assessment of fracking's impact on water resources. He convinced the agency to remove misinformation proposed by lobbyists that downplayed the risk to drinking water.
"It was highly suspicious, and it turned out that the industry was leaning on the EPA and the administration to make sure the study didn't implicate them in water contamination."   
From water protection, to climate change, to renewable energy—when it comes to environmental issues, public opinion and current policies don't always line up.  Noël strives to bridge the disconnect and help people understand the importance of environmental protections.
"Over time, I want to start normalizing some of the policies we are going to need in the future to meaningfully address climate change."
--
Learn more about AU's graduate program in Global Environmental Policy.