Baku Summer Energy School Baku, Azerbaijan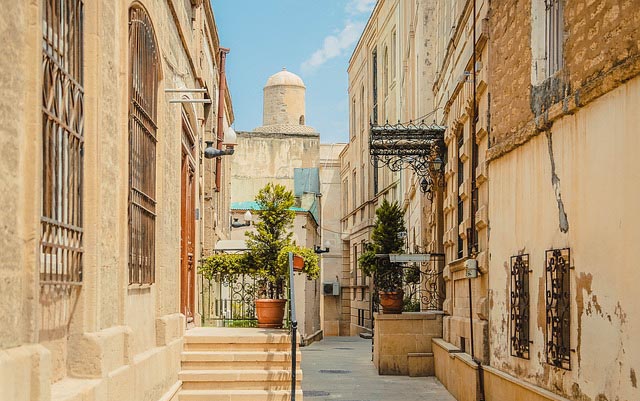 Overview
The Baku Summer Energy School is an annual certificate program of the Azerbaijan Diplomatic Academy (ADA) held in partnership with the State Oil Company of the Azerbaijan Republic (SOCAR)and British Petroleum. It brings together world-renowned scholars, academicians, and policy makers to examine and gain a better understanding of global energy and environment issues and their practical application. Upon completion of the program, participants are issued a certificate by the Azerbaijan Diplomatic Academy.  
Info session
February 19, 2019 4:30-5:30 PM in SIS 112F - All Information Sessions
Program Dates
July 6-20, 2019
Program Fee
All students will be responsible for 3-credits AU tuition for this course. Some meals, social events and airport transfers are included in the program. All students are also responsible for international airfare, accommodations in Baku, most meals, immunizations and visas. 
Course
The 2019 Baku Summer Energy School will expose students to a wide range of issues, such as the fundamentals of energy, energy law, economics and politics of energy, environmental impacts, and strategic management.
A special focus of the program is on the Caspian Basin, including regional pipeline network development, geopolitics of the Caspian Sea and its legal status, and the strategic outlook of SOCAR. Environmental issues, as well as revenue and resource management, will be emphasized throughout the course of the program.
The Baku Summer Energy School is interactive in its format and provides extensive opportunity for professionals in the field of energy to interact and build long-lasting ties. Participants will have a chance to discuss challenging issues with government officials and executives of oil companies such as BP, Exxon, TOTAL, Lukoil, and others.
Students will enroll as attendees for the conference at ADA and receive 3-credits issued by AU, under the supervision of the AU faculty director. Participants will be evaluated based on their participation in the program and completion of a final research paper related to topics related to the program. 
Mamuka Tsereteli

Sr Adjunct Professorial Lecturer SIS-School of Intl Service
February 22, 2019
Applications Now Open
If more space is available, applications will move to a rolling basis after this deadline until early March. You will be notified by email with a decision regarding your nomination for study abroad. At that time, students will be required to submit a non-refundable deposit of $300. 
The program invites applications from all US-based graduate students who are interested in the development, activities, energy politics, and contemporary issues of Azerbaijan and the Black Sea-Caspian region to participate in this fascinating and rewarding international study opportunity in Baku.
SIS graduate students from the Global Environmental Policy, Natural Resources and Sustainable Development, Comparative and Regional Studies, International Development and Global Governance, Politics and Security degree progams might find this program of particular interest to this studies.