Geopolitics and Security: Case of the Black Sea-Caspian Region Tbilisi, Georgia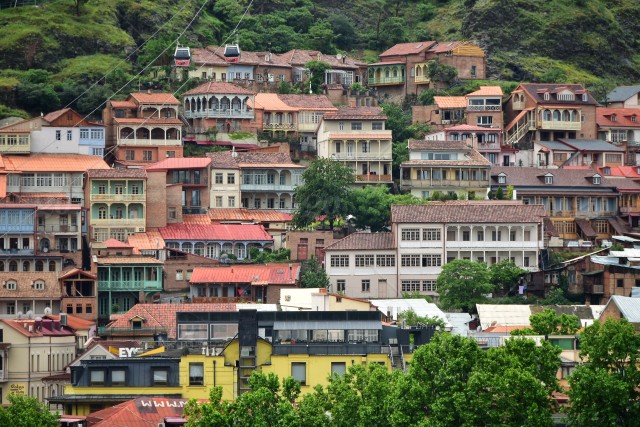 The Caucasus and Central Asia as a region represents a major interest for US foreign policy due to its strategic proximity to the frontline sates of Afghanistan and Iraq, the presence of the US troops and military instructors, its vast energy resources, and the vulnerability to destabilization created by existing and potential regional conflicts. Several countries in the region are ripe for power transition, and most of the scholars focusing on the region predict turbulent transitions ahead.
Program Dates
July 5-19, 2020
Program Fee
Application Fee: All students are required to submit a non-refundable $50 application fee at the time of completing their online application.
Deposit: All students accepted to the program must confirm their spot by paying a non-refundable $300 deposit, to be applied towards tuition for the program.  
Program Fee: Students will be required to pay a program fee. The program fee covers in-country transportation, most meals, housing and excursions. The program fee will be announced by January 2020.
All students are responsible for 3 credits AU tuition, international airfare and immunizations.
Course
In this 3-credit graduate course, in partnership with SIS partner, the Georgian Institute of Public Affairs (GIPA), students will have the opportunity to spend significant time living, studying, and working in a region that is experiencing monumental social, economic, and political change. Students will get to explore security issues in the Caucasus and in Central Asia.
The location of the program will allow participants to familiarize themselves with Georgia's experience in economic reforms, eliminating petty corruption, and success in infrastructure development. Georgia is a key transit country for the renewed Silk Road, facilitating trade and investments between Europe and Asia. Several major pipelines, ports, highways, and railways cross the country and create an opportunity for on-land connection between the Eastern part of the Asian continent, via Central Asia, Azerbaijan and Georgia to Turkey and to Europe. At the same time, Georgia is an interesting case of a country with multiple security challenges. In addition, Georgia can be an interesting place for discussions about how the world class infrastructure could serve as a deterrent and guarantor for security.
The Program consists of four components:
(a) A pre-departure workshop that will address the academics, logistics, policies, and guidelines for all participants.
(b) A core seminar led by the faculty director that will include lectures from prominent academics, politicians, government officials, and non-governmental activists on critical issues facing the area; and site visits to some of the country's most important historical, economic, and cultural markers.
(c) Internship opportunities in Tbilisi that will provide students with first-hand experience working with organizations that deal with various aspects of Georgian culture, politics, security, energy, and post-Soviet society.
(d) Independent Research may be substituted for an internship with the approval of the faculty director.

Students enrolled in the Program will: develop a basic understanding of the origin and historic development of the regional states and major powers affecting the region energy security and energy policy, and how international relations are affected by energy security and policy learn about major challenges of the region, dominated by ethno-political conflicts, as well as challenges like demographic trends, unemployment, etc explore the opportunities for potential positive political and economic developments in the region improve their ability to integrate international relations theory and empirics using case studies and analysis.
Mamuka Tsereteli

Sr Adjunct Professorial Lecturer SIS-School of Intl Service
Deadline Extended until March 11, 2020
If more space is available, applications will move to a rolling basis after this deadline until early March. You will be notified by email with a decision regarding your nomination for study abroad. At that time, students will be required to submit a non-refundable deposit of $300.
The Program invites applications from graduate students attending all schools at American University. Graduate students with interests in comparative political systems, global governance, history, geopolitics, international security, and energy policies are invited to apply. Students must demonstrate academic achievement, an interest in issues covered in the seminar and the ability to adapt to a cross-cultural environment.