Environment and Peacebuilding in the Middle East Israel and Palestine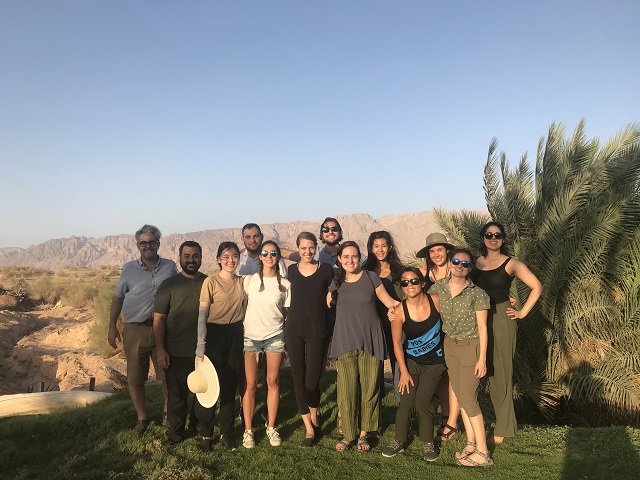 Overview
The 2019 Environmental Peacebuilding Practicum will undertake a three component assessment of the water-food-energy nexus cooperative projects undertaken by the Arava Institute of Environment Studies (AIES) and the Palestinian wastewater Engineers Group (PWEG) in Israel and Palestine. To date, the projects have included household- and community-level wastewater treatment systems, solar energy systems, and date farming in the Jordan and Arava valleys. The 2019 Practicum will conduct both a retrospective and a forward-looking assessment, building on studies undertaken in previous years, which examined the motivations, expectations, concerns, threats and aspirations (i.e. the MECTA) of those involved in these cooperative efforts. This study will inform the continued scaling-up of AIES-PWEG cooperation.  
Information Session
January 28, 2019 4:30-5:30 PM, SIS 112F - All Information Sessions
Program Dates
Tentative On-Campus Meetings

To be determined at a later date.

Course Duration

Mid-May - August 2019

Time in Israel & The West Bank

June 29-July 12, 2019
Program Fee
The program fee is $1,700 and covers in-country housing and transportation, some meals, cultural activities and other costs related to operating the program. The program fee will be charged to your AU Student Account in addition to your tuition at the time of registration by the SIS Office of Experiential Learning.
All students are responsible for 3 credits AU tuition, international airfare, most meals, in-country transport outside of the program, visa fees, immunizations, etc.
Course
In the process, students will become familiar with the wider transboundary cooperation efforts of Arava Institute for Environmental Studies (AIES), Palestinian Wastewater Engineers Group (PWEG), and other organizations in the region. They will study the theory and practice of environmental peacebuilding, learn about the challenges and opportunities of conducting research in a conflict setting, and develop skill in rapid-appraisal techniques, interview methods, and related skills. During the filed portion of the practicum, they will meet practitioners working for these NGOs as well as the beneficiary-participant parties of the project. They will also meet Israeli and Palestinian officials whose governance practices have bearing on water, cooperation and peace in the region.
Team members will conduct research design work in Washington, DC in May/June 2019 and travel to the region for two weeks (June 29-July 12, 2019) to collect data in the field through participant-observation, interviews, focus groups, and archival work at the project sites; and produce a report that will be submitted to the partners to help them assess, improve, and further develop their activities.
For 2019, the three components of the study will include;
A summary narrative of the cooperative efforts of AIES and PWEG, from 2011-present.
A preliminary immediate outcomes analysis of the eight-year cooperation: It will do this by examining emerging immediate outcomes, addressing the following overarching question: What is the extent to which tangible (i.e. material) and intangible (i.e. ideational) benefits have been produced by the water-food-energy nexus cooperative projects of AIES and PWEG?
A MECTA analysis among new participants/beneficiaries in Marj Al Ghazal: The 2019-2020 scaling up of cooperation between PWEG and AIES involves the large-scale expansion of household-level wastewater treatment facilities in Marj Al Ghazal. Students will inform this expansion in seeking to address the following question: What are the development and peacebuilding-related motivations, expectations, concerns, threats and aspirations of Israelis and Palestinians who cooperate on this water-energy-food nexus project in Marj Al Ghazal?
An optional public presentation of the report at SIS will occur early in the fall semester.

Eric Abitbol

Adjunct Professorial Lecturer SIS-School of Intl Service
Ken Conca

Professor SIS - School of International Service
Applications Open

January 22, 2019

Applications Close

February 22, 2019 11:59 PM EST 
This practicum is open to all SIS graduate students meeting the practicum requirements and may be of particular interest to students studying Global Environmental Policy, Natural Resources and Sustainable Development, International Peace and Conflict Resolution, International Development and Comparative and Regional Studies.
There are no specific course prerequisites, but an application's competitiveness will be enhanced by showing experience with or capacity for any of the following: relevant language skills; prior experience or field work in the region; coursework on or experience with water-energy-food governance; prior work on water-energy-food projects; and coursework, experience or skills with peace and conflict resolution.