Community Success Story
GEP Student Fights for Clean Water Around the World
By Annie Lyon, CAS/MA '03
April 26, 2010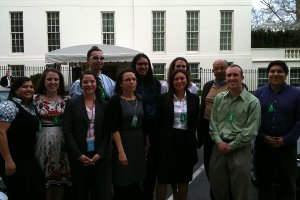 When he realized his interest in the environment, Trey Lewis SIS/MA '11, never imagined that it would take him to the highest point of American government.
In late March, Lewis, an alumnus of the WINS program (Washington Internship for Native Students), accompanied other alumni and students to the Executive Office Building to meet Native Americans in the Obama administration.
"We met 2 different people: Kim Teehee, who's Cherokee … and is on Obama's domestic policy team, one of the people who talks to him every day, and Jodi Gillette, [who] is the assistant director of intergovernmental affairs; she is Sioux Lakota," Lewis explains.
The Global Environmental Politics student from Oklahoma did his undergraduate degree at Oklahoma State University, and became aware of the Washington Semester-run program while still an undergrad. Being part Cherokee, Lewis was immediately intrigued.
"That's the reason I came to AU," Lewis confesses. "I did that, and got interested in American [University] while I was here, took some classes," and then he decided to enroll. As part of the WINS program, he not only took classes, but interned with both the Forest Service and USAID's Democracy and Governance Office.
One of the most affecting experiences for Lewis was taking an alternative spring break trip to the Navajo Reservation in Arizona, New Mexico, and Colorado, to study, as Lewis terms it, eco-racism in uranium mining. "It was really powerful to see the long-term effects that uranium mining has," Lewis comments. "This is the uranium that went to the power plants in the '70s; these miners and their families … didn't know about [how dangerous it] was. There are so many problems with the water being contaminated, and no one's really done anything about it." Most unfortunately, "that water system connects with other water systems in the area; they're getting ready to pollute the next generation," he explains in disbelief.
Water and its problems with contamination are Lewis' pet project. After graduation, he plans, "I'd like to work overseas on small-scale water projects. For instance, [I'm] looking at doing microdamming or a artificial glacier project in Nepal; basically, you build a dam-type thing, you take the excess water and cover it up until it builds up to ice sheets, and in the summer it slowly melts and you get a constant flow of water."
But while Lewis plans to make changes in the availability of water world-wide (including the SIS-sponsored trip to the Galapagos Islands in May), he's not finished with the plight of the Native Americans.
"Water contamination has also happened on the Sioux reservation in South Dakota; these people are poor, and haven't had a lot of political power, so they've been exploited," Lewis explains. "That's what we went to the White House to talk about. The best case scenario [would be] that the administration fully considers the negative effects associated with nuclear power, especially uranium mining, and its disproportionate effect on native peoples."