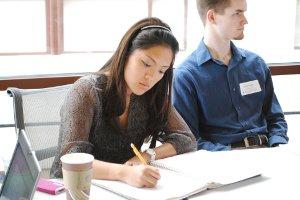 Research Awards and Prizes
The following is a listing of prizes and awards that are available for undergraduate researchers.  Click on the title of each funding opportunity for additional information.
Your Ideas, Your NATO:
this prize, sponsored by atlantic-community.org (an open think tank that seeks to empower students in the transatlantic policy debate) seeks students' ideas on important current issues that will be debated at the NATO Summit in Chicago in May, including partnerships with Arab Spring countries, spending more efficiently on defense, and building transatlantic values and community.  Winners will present their policy ideas at the atlantic-community.org conference in Berlin and receive feedback from NATO (round-trip airfare and 4 nights' accommodation plus 500 EUR cash prize included). Students will also have a chance to collaborate with their peers in other NATO Member and Partner countries to come up with common solutions to these important transatlantic issues.
The deadline for submissions in the first category is February 23, 2012.  Questions and requests for additional information should be directed to staff@atlantic-community.org.
Edwin H. Sherman Family Prize for Undergraduate Scholarship in Force and Diplomacy:
Temple University's Center for the Study of Force and Diplomacy is delighted once again to solicit submissions for its annual Edwin H. Sherman Family Prize for Undergraduate Scholarship in Force and Diplomacy. The recipient of the Sherman Prize will receive a $1,000 award along with a certificate.
Any paper written by an undergraduate student in the 2011 calendar year, submitted by either the student or a faculty member at the student's college or university, is eligible. The paper must address an issue, contemporary or historical, that demonstrates the intersection of force and diplomacy in international affairs. Although electronic submissions are preferred, hard-copy submissions will be accepted.
Papers must be emailed or postmarked no later than Monday, February 27th, 2012. Please address electronic submissions and all questions to: Kaete O'Connell (kaete.oconnell@temple.edu)
Mail hard copy submissions to:
The Center for the Study of Force and Diplomacy
Gladfelter 917
Temple University
1115 W. Berks Street
Philadelphia, PA 19122-6089
Lincoln-Juarez Historical Literary Essay Contest:
As Mexico and the United States commemorate the Sesquicentennial of the US Civil War and the French intervention in Mexico, the Military Order of the Loyal Legion of the United States (MOLLUS) and the State of Puebla, Mexico have entered into a scholarly and historical partnership to ensure that there is ample opportunity during this period to explore the close relationship between both legitimate governments and in particular Presidents Lincoln and Juarez and how this relationship was in many ways key to the eventual victory's by both. Cash Awards: First Prize: $5,000 USD, Second Prize: $3,000 USD, Third Prize: $1,000 USD
The Lincoln-Juarez Historical Literary Essay Scholarship Competition (Scholarship) is open to all college students who are enrolled at the time of entry, anywhere in the United States of America, irrespective of citizenship or place of study.  The Scholarship is not open to any persons, or their relatives, previously or currently affiliated with the MOLLUS in any capacity.  The topic, Lincoln-Juarez Annual Historical Literary Essay Scholarships for College Students, is to be the US Civil War and the French Intervention in Mexico and must address the "Battle of Puebla of the 5 de Mayo and its effect on the US Civil War." A complete list of rules and the scholarship entry form can be found here: http://suvcw.org/mollus/oldsave/scholarshiprulesform.pdf