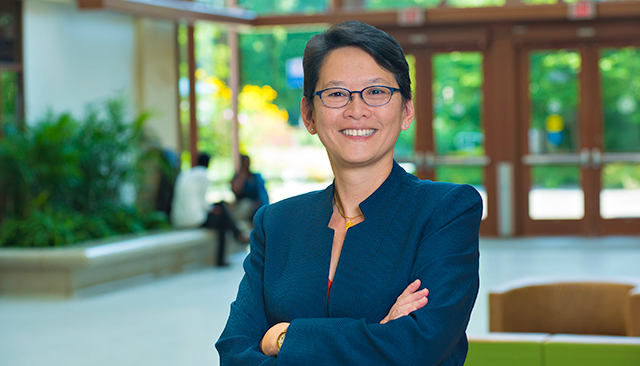 Welcome! I'm glad you are interested in learning more about the School of International Service (SIS). Our goal is to prepare active citizens who are committed to be of service in addressing the most pressing issues of our time. Our major programs of study equip emerging global leaders with intercultural competence, strong analytical and critical thinking skills, and professional expertise in a specialized subject area. Our location in Washington, DC, puts us in close proximity to local, national, and international decision makers.
The inclusive SIS community is comprised of four important groups of people: a multi-disciplinary faculty—dedicated teachers and innovative scholars working at the forefront of their research fields; a committed staff ensuring that students can take full advantage of all SIS has to offer, including events with global leaders and robust career and academic advising; a highly-connected global alumni network of more than 25,000 people; and our students, who come to us from across the country and around the world. This is who we are: a community working toward a common purpose of leadership through service.
As you may know, our school was founded in 1957 as an institution dedicated to preparing students to work in the service not of any particular state, but in the service of humanity as a whole. SIS is a meeting place for multiple disciplines, fields, and traditions of inquiry, examining global problems and challenges that transcend any one academic discipline. 
As the world continues to reckon with systemic forms of oppression and violence, the SIS vision is to advance a more inclusive, equitable, and pluralistic approach to international affairs. For us, this is consistent—SIS has always been broader than a typical IR school, especially since international relations has long been dominated by Western narratives, ideas, and institutions. We realize this vision in three ways:
At SIS, we strive to recognize and incorporate the contributions of peoples and societies that have been neglected or marginalized in dominant IR literature. This includes not only the work of scholars of the Global South, but also scholars of the Global North whose voices have been neglected, erased, or silenced.
We provide more inclusive, expansive, and nuanced understandings of our field as we strive to translate research into policy and practice while preparing our students to pursue a range of 21st-century careers in government, nonprofits, and business.
Finally, SIS is committed to developing a more diverse and inclusive community of faculty, students, staff, alumni, and partner institutions that reflects the realities of this changing world.
There is much work to be done. I invite you to join the next cohort of changemakers who will lead in helping realize a healthier and more equitable, inclusive, secure, and prosperous world. The SIS community of faculty, staff, students, and alumni look forward to meeting you.
Christine BN Chin, Dean
School of International Service
Six months after graduation,