Television & Film
Q&A With "Veiled Voices" Director Brigid Maher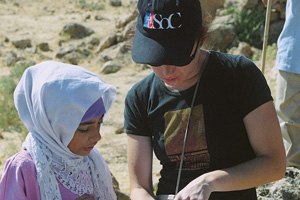 Brigid Maher is a filmmaker and writer who heads the New Media concentration in SOC's Film and Media Arts Division. Her award-winning narrative and documentary films have shown in festivals in the U.S. and abroad. 
I sat down with Maher to discuss her documentary, Veiled Voices, which focuses on the phenomenon of Muslim women religious leaders in Islam.  The film will air nationally on Tuesday, March 8, in honor of International Women's Day*.
Q: What was your initial goal in making this film? How do you feel the final product compares to your original idea? 
A: I didn't have any preset ideas, rather questions that I wanted to explore in making the film. I wanted to explore how Islam is a pluralistic religion through the eyes of these women. I wanted to see if they really "practiced what they teach." I was very excited by the access the women granted me and it shows in the film. 
Q: How have your international experiences, including teaching in Lebanon through a Fulbright award, shaped you as a filmmaker? 
A: I have a much more comprehensive view of the diversity of cultures in the Middle East. I think the experiences help me to be more insightful as a filmmaker and to dig deeper. When I first pitched the idea of the film, people asked, "How can you pack that all into a film for people who may know nothing about the Middle East and Islam?" It was a daunting challenge but my experience was what came to my aid in making Veiled Voices an accessible and in-depth story. 
Q: What lessons have you learned from Veiled Voices that you apply in your teaching? 
A: I apply what I have learned every class. In particular, how I approach teaching editing and motion graphics. I really spent a lot of time on the structure of the film while editing Veiled Voices and it really paid off. Now, I emphasize how critically important it is for an editor to develop a clear and structured story arc, not just nifty picture cuts. 
Q: Veiled Voices has had a wide international release, notably being broadcast by Al Jazeera network in the Middle East and North Africa. What about this film do you feel has made it transcend language, culture and nationality?
A: The pluralism of the women's stories. They each have a different approach to their teaching but they all share an effort to help their students. I also really wanted to show them with their families, not just as leaders in the public sphere. I think this choice helps people from different nationalities, language and cultures to identify with the women more strongly. 
Q: How is the film being used?
A: Veiled Voices is currently used as primary source material or as an education tool in universities across the U.S. in Middle East Studies and gender classes. I think what I have found remarkable is that it is in over 100 public libraries throughout the United States as well. We have teaching guides for high schools, universities and the general public on our website. And, we had a great opportunity to collaborate with the School of Education on some of the work.

Q: Tell me about upcoming events related to Veiled Voices.
A: I will be traveling to Morocco in late March to head the animation jury of an International Student Festival and teach a master class in animation. I haven't been back to Morocco since 1996 so I am very excited about the opportunity to visit the country again and meet the students. The U.S. consulate is also planning screenings of Veiled Voices during my visit. When I return, the Prince Alwaleed Bin Talal Islamic Studies Program at Harvard has asked me to present the film in early April.
* On Tuesday, March 8, Veiled Voices will air on Free Speech TV throughout the day at 5 a.m., 11 a.m., 5 p.m. and 11 p.m.(EST). Free Speech TV broadcasts on DISH Network (channel 9415), Direct TV (channel 348) and part-time on 200 cable affiliates in 39 states. Bridges TV will also broadcast it the same day at 9:30pm (EST). It is available in 27 markets in 17 states on Cable and Verizon Fios.