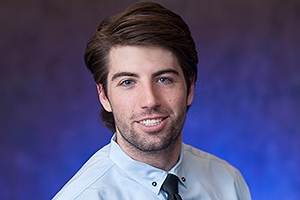 Michael Anthony Brown
Class of 2013
Major: Film and Media Arts
Minor: Health Promotion
Hometown: West Nyack, New York
Favorite SOC Courses:
Film & Video Production with Professor Maggie Stogner
Digital Imaging with Professor Robert Benica
Dramatic Production and Cinematography & Lighting with Professor Gary Griffin
Producing Film and Video & Directing for Camera with Professor Randall Blair
Advanced Writing for Film with Professor Gilles Wheeler
Advanced Visual Media Portfolio with Professor Sandy Cannon-Brown
Internship Experience:
FAMU International Prague Film Institute
Classroom in the Wild: Extreme HD Alaska, Film Documentary with Larry Engel
Black Tie Productions: New York, Videography
Extracurricular Activities:
Technical Direction for "Link Asian" with Yul Kwon

Cinematographer for "Campaign U" with Professor Leonard Steinhorn
Competitive All Natural Bodybuilder
Best Moments in SOC:
I will never forget coming to the SOC as a wide-eyed prospective student and meeting the Associate Dean Rose Ann Robertson and Professor Maggie Stogner. Hearing the tales of such accomplished individuals and the potential they presented ahead of me, I knew that AU was the right College for me. This relationship with professors and advisors has continually made AU feel like home. Now, 4 years later, it is the tight-knit community of the SOC that is helping me advance in to the next chapter in my life.
Personal Website/Blog: