Revolution (Ink)orporated - by Chelsea Crandall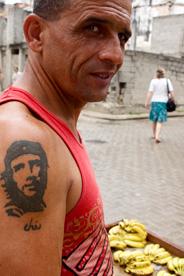 "Too much roc 'n' roll, too little revolution." It's hard to believe that this was the perception of tattoos only a decade or two decade ago in Cuba. However, revolutionary just might be the best way to describe the progress of tattoo culture in Cuban society. Tattoos transformed from a tabooed "anti-social" behavior, to incorporating revolutionary figures and symbols.
The transformation in the practice by tattoo artists has been integral to not only its normalization, which is now well underway, but to its recognition as an art. As recently as the late 1980s, tattoos were made in the traditional needle and ink pricking technique or with a make shift gun pieced together from motors of small tape recorders, walkmans, or electric razors. Needles were improvised from disposable acupuncture pins, a practice that has not yet been eradicated in Cuba. However, the growing popularity of tattoos has pushed this subculture into an art culture. Tattoo artists who struggle to keep with this trend are finding it difficult to continue their profession.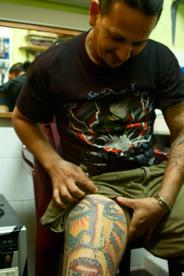 Andy is a small tattoo artist in Alamar. Although he has acquired a factory-made gun, he still struggles daily to find new supplies and promote himself as an artist, which is exclusively done by word of mouth. To attract business, he offers to work in the clients' homes. His pieces hardly earn more than $15 CUC and he claims that competition is tough amongst tattoo artists like him, who lack resources to get supplies from abroad. Andy's struggle was apparent in his disillusioned response to questions over what is tattoo 'culture' in Cuba.
On the other hand, Leo Canosa vibrantly espoused over Cuban tattoo culture in our interview. This is most likely because he has played an influential role in shaping it. Leo Canosa is a founding member of the Lienzos Vivientes (Living Canvases), a group of tattoo artists accepted by the Ministry of Culture's youth arts organization, the Hermanos Saiz Association. Through the group, Leo hopes to promote artistic exchanges and support amongst tattoo artist and also to gain recognition from the government. Leo encourages the Ministry of Public Health to perform "check-ups" to ensure the safety of his practice from adverse reactions and complications. Leo is truly a star within the Cuban tattoo community.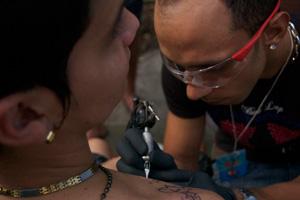 He switches between running his bustling studio in Alamar and his guest role at the studio of internationally acclaimed Canadian artist John "the Dutchman." If this wasn't advantage enough, Leo has his own website, figure (6), an illustrious commodity amongst tattoo artists, that attracts tourists whom he can charge $40-$200 CUC for his work, sums far exceeding the average Cuban salaries. Leo is working diligently with the bureaucracy to open the first officially recognized tattoo parlor in Habana Vieja.
With Leo's achievements paving the way, many artists are now seeking government support for their professional and artistic ambitions. The journey ahead of them is not a small one. Of the 153 cuentas propistas (self-employment opportunities) opened under the economic changes in 2010, tattoo artists were not included in the newly recognized professions. However, artists are still coordinating with organizations such as the Centro Artistico to display their work in galleries, festivals, expos, and host dialogues and discussions about body art. Time will tell whether Cuban tattoo culture as an art will flourish as significantly as their artists have and finally become a professionally recognized revolution INKorporated.