A Little Cafeteria on Paseo…with a lot of heart and soul - by Paul Barrett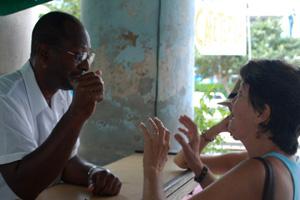 If you ever have the opportunity to walk along Paseo, one of the most prominent streets in Havana, you'd probably pass hospitals, hotels and a few monuments. Chances are that in the midst of all the hustle and bustle, you'd probably pass over a little cafeteria on Paseo between 3rd and 5th street. Nestled in the middle of the city between another cafeteria and souvenir shop is a small cafeteria that sells sandwiches. There are no major bells and whistles attached to this place that cause it to stand out among the rest of the small shops and restaurants on the block. The cafeteria doesn't even have a name.
However, if you were to happen upon this cafeteria, you would meet a man named Angel, a middle-aged black Cuban born and raised in Havana. Although the cafeteria has been open less than  a year, he has been in business in Vedado for over a decade. With such a connection to the area and experience as a cafeteria owner, Angel's presence and comportment provides a very different than the typical cafeteria.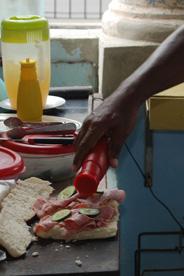 When I initially set out on the photo story assignment, my goal was to show the highs and lows of life as a cafeteria owner. As discussed in my proposal, cuentas propias are a relatively new venture in Cuban society. It wasn't that long ago when cafeterias like Angel's were illegal. Furthermore, the risk-reward for individuals who go into small business ventures like cafeterias is an a topic of significance in the wake of all the recent economic reforms brought about by the Cuban government. It was my hope that I would be able to capture this tension, this struggle in my photo essay. However the further I went into this assignment, the less important my plan became.
As I delved further into covering Angel and the daily happenings at his cafeteria, my plan became less and less significant as I was confronted with the realities of what I was dealing with. My lofty hopes of capturing the small business owner's struggles in the rapidly changing Cuban economy came face to face with the people that I was photographing.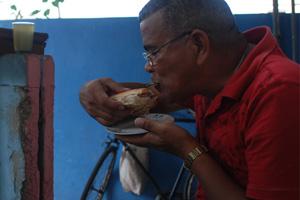 Obviously, the central figure in this story is Angel. It is his cafeteria and one only needs to spend a brief amount of time with him to have his amicable personality capture your attention. He's more than just a guy who makes sandwiches. His role is a blend of cafeteria owner, local historian/tour guide (and for some psychiatrist). Nevertheless, he isn't the only person that makes the cafeteria what it is.
His sister-in-law works alongside of him, helping to support the day to day operations run smoothly. Although she doesn't speak much or have an extremely visible role in the cafeteria, her presence is necessary. Furthermore, it's the customers, their relationship with Angel and one another that shifted the direction of this assignment.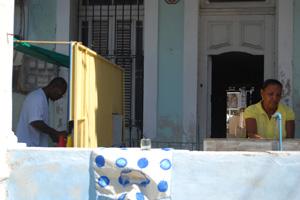 At this cafeteria, relations are everything. It's evident in the way Angel treats his customers, evident in the way the treat him and one another.  Here, patrons become friends and friends become family. Even in my time in Havana, I was amazed at how I was drawn to this place. To be honest the food isn't that great. For me this is the true story behind the cafeteria. Although the struggles of the small business probably apply to Angel's cafeteria as well, it's the atmosphere, the warmth and closeness that takes center stage. I believe it reflects the unity and camaraderie Cubans share with one another. Though it probably won't be considered news worthy, it's something that is note-worthy.