Journalism
Executive Summary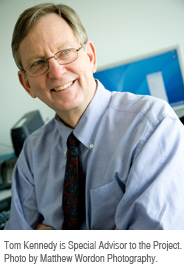 In the past 20 years, visual journalism has been profoundly changed by technology. The advent of the Internet, the miniaturization and lower price of camera equipment, and a plethora of digital editing and distribution platforms have transformed the ways in which visual reports are made. Journalists who had been part of an assembly line approach to video, each using specific skills to improve the product, are now empowered to work solo: reporting, shooting, editing and doing all final post-production tasks. This method of media production has spawned a number of names including Video Journalism, MoJos (Mobile Journalists) and the term used by American University, "Backpack Journalism."
By launching the Backpack Journalism Project, American University brands this methodology and is now actively at work defining how best to train practitioners. To do it effectively requires a mastery of new technologies, a fusion of roles previously separated in the broadcast environment, and a new workflow that still affords the historic checks and balances that have been used to ensure accuracy, fairness and balance. The method's effectiveness as a journalistic practice demands that it be developed in a systematic manner shaped by high standards and best practices.
Currently, the backpack method is being used by some newspaper staffs to produce visual journalism for websites, by broadcast operations to offer unique content, and by freelance journalists who recognize its value to tell stories and present evidence and testimony for media and non-media clients. They are being joined by the members of the first true "digital generation," today's college students, who embrace the opportunity to use backpack journalism to learn diverse and marketable skills. Students see it as a logical extension of the tools they have grown up using and an appealing career choice that rewards creativity and skill acquisition over years with a single-minded focus in either journalism or video production. Many laid-off journalists who have transitioned into backpack journalists are also reveling in the creative identities they are able to establish. They recognize that this method of storytelling is increasingly valued and is creating opportunities outside journalism from companies and institutions that see "subject-driven" visual narratives as an effective way to communicate with key audiences.
This white paper is a first attempt to define backpack journalism, to examine how it is currently practiced, to identify the key issues that encourage its growth and those that block it and to determine how to safeguard its future through quality training. It was written by Tom Kennedy, former managing editor for multimedia at washingtonpost.com, and president of Tom Kennedy Multimedia in collaboration with Bill Gentile, a photojournalist, independent documentary filmmaker, journalist in residence at American University's School of Communication and Director of the Backpack Journalism Project. Kennedy interviewed nearly two dozen top visual journalists to arrive at the findings presented here.
In launching the Backpack Journalism Project, American University intends to contribute to this movement of digital video storytellers by building on traditional journalistic values, identify best practices, learning from industry leaders and independent pioneers, and developing key standards and guidelines. We invite you to join us in shaping this emerging profession, and mapping new ground for journalism in the 21st century.