School of Communication
4400 Massachusetts Avenue NW
Washington
,
DC
20016
United States
Featured Events - updated weekly
screening of film clips from saaba and q&atuesday, november 13 at 7:00pm
Malsi Doyle and Michael Forman Theater, McKinley Building
Reservations are recommended. Seating is on a first come/first served basis.
Told from the perspective of five community members in a small town in Burkina Faso, the new six-part docuseries offers a people-centered view of a peace-building effort in an area drawing increasing international attention for its role in combating violent extremism. Produced by Meridian Hill Pictures (CITY OF TREES) and Big Mouth Productions (CAMERAPERSON). Screening will feature the filmmakers and experts from the United States Institute of Peace.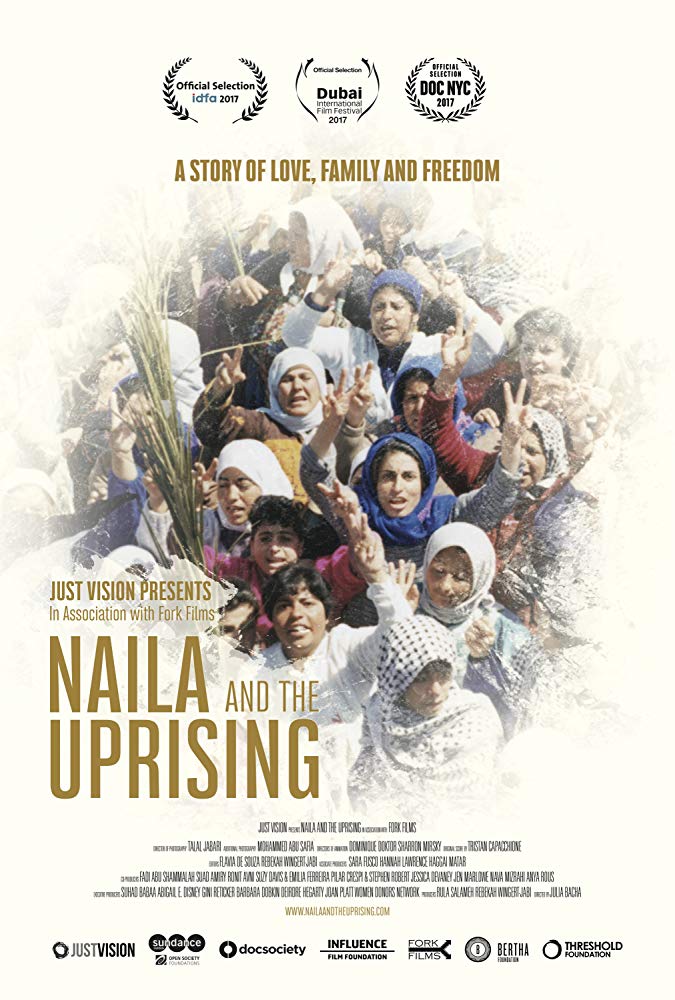 naIla and the uprising filM screeningwednesday, november 14 at 7:00pm; 6:30pm Reception
Malsi Doyle and Michael Forman Theater, McKinley Building
Reservations recommended; seating is first-come, first-seated.
"Naila and the Uprising" chronicles the remarkable journey of Naila Ayesh, a young woman in Gaza during the First Intifada, whose story weaves through the most vibrant, nonviolent mobilization in Palestinian history. When a nation-wide uprising breaks out in the Occupied Territories, Naila must choose between love, family, and freedom as she joins a clandestine network of women in a movement that forces the world to recognize the Palestinian right to self-determination.
Featured panelists: Suhad Babaa, executive director, Just Vision; Rebekah Wingert-Jabi, producer and editor; Barbara Wien, SIS professor; and Van Azad, Program Manager, Middle East and North Africa Region, Vital Voices; moderated by Caty Borum Chattoo, Center for Media & Social Impact Director.
the press and politicssaturday, november 17 at 9:00 am 
Malsi Doyle and Michael Forman Theater, McKinley Building
Reservations are required due to limited seating. 
Join POLITICO journalists along with Kristen Welker (NBC), Wesley Lowery (The Washington Post), Shawna Thomas (Vice News), Sonya Ross (The Associated Press) and other D.C.-based journalists for this event, featuring training and networking opportunities to help launch your career — or take it to the next level. This free program is a special project of the POLITICO Journalism Institute, which aims to increase diversity in Washington newsrooms.
The Press & Politics is a free event, including lunch, but registration is required due to limited seating.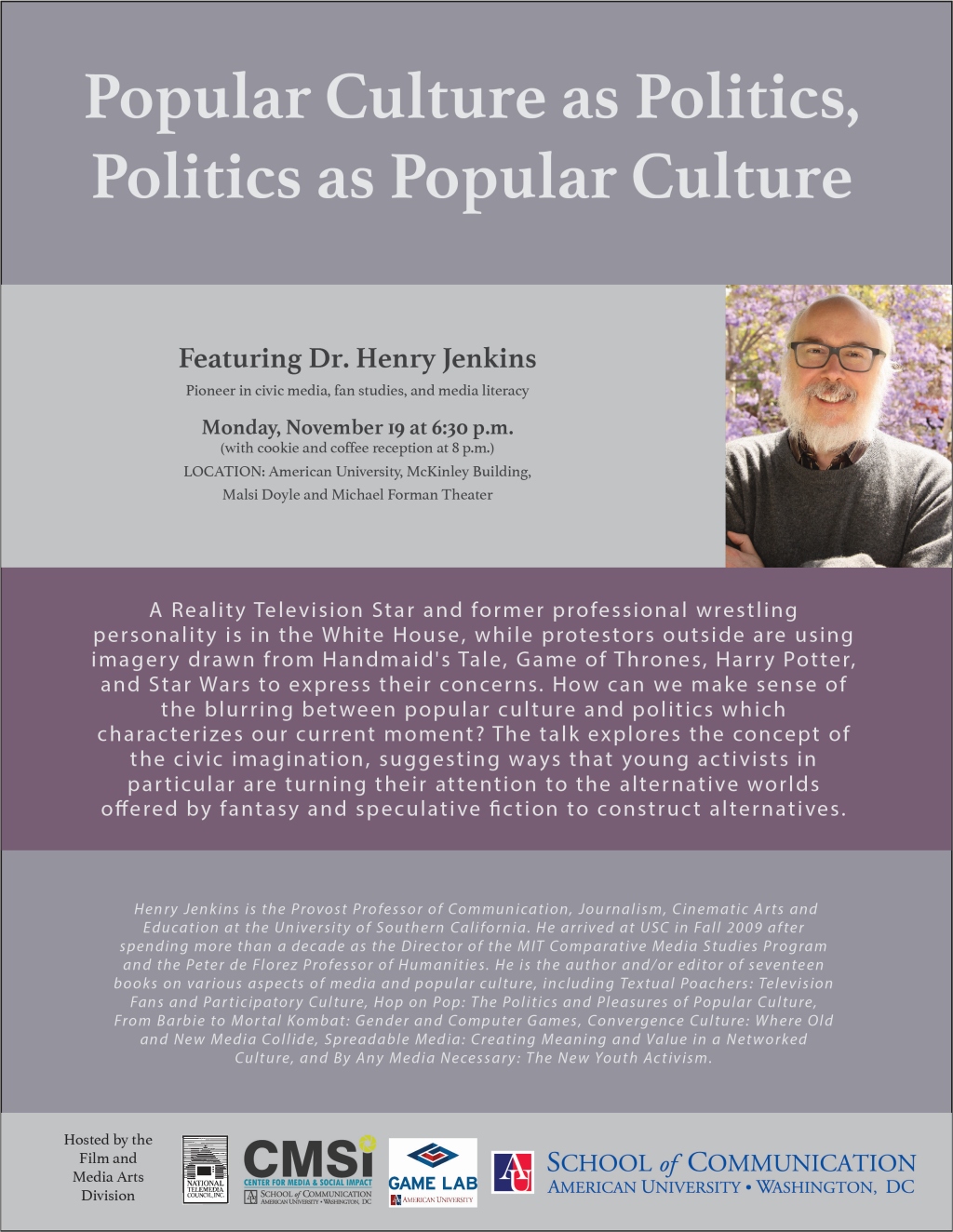 Henry Jenkins: Popular Culture as Politics, Politics as Popular Culturemonday, november 19 at 6:30 am 
Malsi Doyle and Michael Forman Theater, McKinley Building
Reservations are requested. 
A Reality Television Star and former professional wrestling personality is in the White House, while protestors outside are using imagery drawn from Handmaid's Tale, Game of Thrones, Harry Potter, and Star Wars to express their concerns. How can we make sense of the blurring between popular culture and politics which characterizes our current moment? The talk explores the concept of the civic imagination, suggesting ways that young activists in particular are turning their attention to the alternative worlds offered by fantasy and speculative fiction to construct alternatives to their frustration with current reality. Can we change the world without imagining what a better world looks like?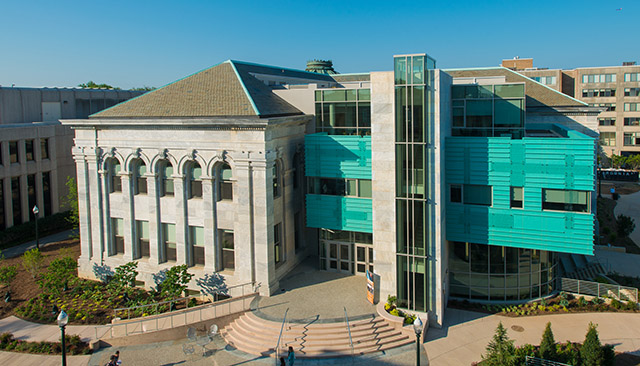 Each year the School of Communication hosts many exciting events including screenings, guest speakers, seminars, and receptions.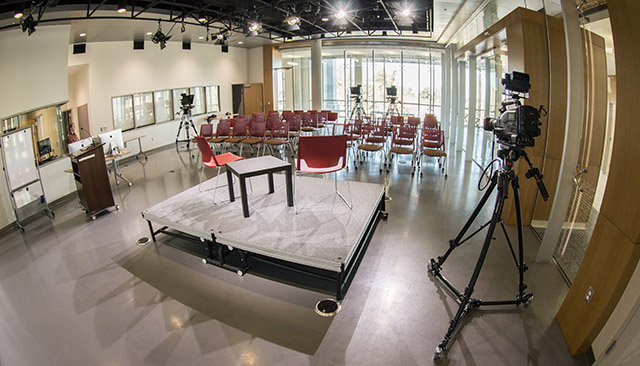 SOC's McKinley building offers a host of event spaces available for rent, ranging from classrooms to a 144 seat theater with 4k projector.