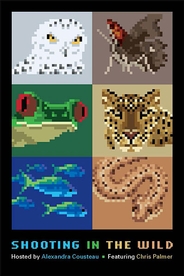 Shooting in the Wild
A documentary film based on the book
The new documentary for public television Shooting in the Wild reveals how the production of wildlife films sometimes involves deception and sensationalism. Host Alexandra Cousteau and veteran film producer Chris Palmer take a behind-the-scenes look at wildlife filmmaking.

Hosted by Alexandra Cousteau
Featuring Chris Palmer
Producer/Director Ed Beimfohr
Producer/Editor Frank Fitzmaurice

Read review by scientist, author, and filmmaker Dr. Randy Olson.