Strategic Tools, Smart Messaging
Public Relations. It's a field built on ideas and images, persuasion and information, strategy and tactics. From studios promoting films to businesses burnishing their images to advocates promoting social causes, public relations is at the heart of our economy, society, and politics. No policy or product can succeed without a smart message targeted to the right audience in creative and innovative ways. The ability to communicate this way-to communicate strategically-is what our Public Relations and Strategic Communication program is all about.
Our goal is to educate you not only in the most recent trends, but in the type of thinking that will set you apart from your peers. Through courses, internships, and hands-on work, we empower you with the strategic tools and insights that rival what professionals learn after years of experience.
Researching or doing a project on a political issue or environmental cause? We'll send you out to speak with key influencers so that you can weave that knowledge intro your coursework. You may even have a chance to work with real-life clients. Some of the biggest names in Washington, DC from speechwriters to high-level professionals are guest lecturers in our classes. PR firms, international organizations, health care companies, congressional offices and advocacy groups all welcome our students as interns. You'll build a network of professionals that will enhance your learning and accelerate your career.
At the Heart of it All
Washington is your communications laboratory-it's the PR and media capital of the world. And as the longest standing Public Communication program in the area, our program has deep roots throughout the city.
We teach professional skills at the School of Communication. But even more important, we teach you to think strategically. We teach how to target an audience, how to create a compelling message, how to write persuasively, how to advocate in a changing world of new media and cutting edge technology. To grasp a communication challenge and create a strategy to address it-that's what we train you to do here.
Save Time and Money

Get a head start on your advanced with SOC's combined bachelor of arts/master of arts program and have up to six credits from your bachelor's degree count toward your master's. You may apply for admission to the program during the second semester of your junior year. Students in any undergraduate major at AU are eligible for consideration. An undergraduate degree in communication is not required.

The same intellectual rigor that defines our bachelor's degree majors is also a hallmark of our Minor in Communication. Whether your interest is in journalism, public relations and strategic communication, film and media arts, or foreign language and communication media, this minor will build your practical professional skills, give you a broad-based understanding of communication theory, and afford you hands-on, real-world work opportunities.
Since you apply to American University as a whole, not to any specific school or college, you may choose any major, and you may also choose any minor offered by AU. Formal admission to the minor requires a cumulative GPA of 2.50 (on a 4.00 scale). You'll need to complete 18 credit hours with grades of C or better, including two required courses (6 credits) and four electives (12 credits) across a range of communication disciplines. A minimum of 9 credit hours must be at the 300-level or above, and at least 12 credit hours must be unique to the minor.
Six months after graduation,
Tailor Your Degree to Your Goals
The Public Communication faculty has created concentrations that will allow you to focus your studies in your areas of interest. Although you are not required to pick a concentration, they are an ideal way for students to build upon areas of expertise and showcase that expertise on your resume, online portfolios, and LinkedIn and other social media profiles.
Students must take a minimum of 4 courses in a topic area in order to be considered a concentration. Please note that these concentrations will not be listed on diplomas, transcripts, or your degree audit.

Combating Hate with a Young Adult Novel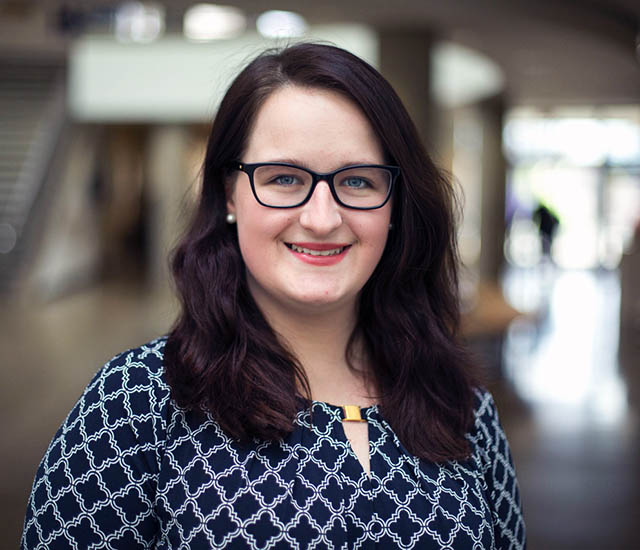 Killian MacDonald, SOC/BA '17
Those books shaped my life…This really has been a passion project for me.
Killian MacDonald's forthcoming novel uses young adult literature as a platform for social change. While her narrative follows the same arcs of heroism, romance, and adventure that appear throughout the genre, her accompanying strategic plan-written for her interdisciplinary honors capstone-uses her communication skills to teach teens about Islamophobia and inspires them to stand up for each other and be activists in their own right.
6 Concentrations to choose from to focus on your interests and build your resume.
98 percent of PR & Strategic Communication undergraduate students participate in an internship
Frequently Asked Questions
You are not required to pick a concentration, but if you do have a particular area of interest or expertise, you can choose to concentrate your studies by taking four courses in one of the following six areas: Political Communication; Health, Science, and Environmental Communication; Corporate Communication; Social Change and Advocacy Communication; Digital Strategies; or Lifestyle and Culture Communication. 
A concentration may also open you up to myriad career options in your major.

The School of Communication has a distinct advantage among comparable institutions for the wide variety of experiential learning opportunities offered to students. Internships are a way of life here. Undergraduate and graduate students can receive course credit for one internship, but most students have two or three, thanks to faculty and alumni who share their professional contacts.
We have an active and effective alumni mentoring program that will help you bridge the gap between the classroom and the professional world. Through our Dean's Internships, we work with world-class partners to connect select, highly-qualified students with meaningful real-world assignments that create future pathways to jobs. And we have two full-time career advisors to help you land internships and plan your career.

No, you will apply to American University as a whole. You'll be able to indicate your intended major on your application, but your admission decision will not be affected by the major you indicate. You can change your mind after you apply, too. Because it's so easy to change your major, however, we highly recommend that you indicate a major within the School of Communication, even if you're not 100% certain. That way, you'll be acclimated to our community right away.