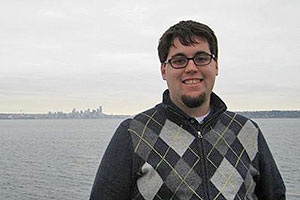 Chris Guizlo, Media Relations and Public Relations Coordinator at Merchant Risk Council, MA '13

What made you decide to earn your degree at American University as opposed to another institution?
The real world experience that the faculty at American University brings to the table is the main reason that I decided to attend AU for my degree. I knew that my education would be given by professors who have practiced in the field of strategic communications and they would give me the tools to be an asset to any company in the world.

What do you believe makes your program of study unique?
It is an all-encompassing design. You learn every aspect of the strategic communications field so that you can take that knowledge and build a 360-degree public communications strategy for any company.

In your opinion, what do you think is your program's biggest strength? Please explain why.
The MA in Strategic Communication program's biggest strengths are the faculty and the focus on digital media. The faculty members bring so many diverse and amazing experiences to the table that students with any interest will find their match in a faculty mentor. The focus on digital media has made AU the spot to go for an education that integrates both traditional and digital media into strategic communications campaigns.

What is one of your most memorable moments in your program?
The camaraderie that my class had helped each other push through the program. We were competing, but we were also driven to make sure that we all succeeded.

How was the coursework and curriculum relevant to your field today? How did the faculty keep the curriculum current?
It was directly relevant and I find myself applying practical solutions that I learned during my degree program every day. The faculty was amazing at keeping the curriculum current. The expectation that students will stay informed on current events and bring those to the table as applications of the theories and practices being learned was an amazing way the faculty was able to keep things on the cutting edge.

Is there a class, project or assignment that was particularly memorable? Why?
The capstone was my most memorable project. The ability to create a professional and scientific research paper on an area of interest was the best way to put all of the skills I had learned together into a concise document.

Briefly describe in what ways the program exceeded your expectations.
The faculty went above and beyond to help us succeed. They are the reason this program is as good as it is.


What skills did you learn in the program? What were the major takeaways?
I learned how to strategically communicate the mission or goal of the organization you are working for to achieve the larger company goals.